The Labour Party today issued a press release asking for a reduction in the number of foreign nationals serving their sentence in UK jails, as a new EU Framework Decision comes into force permitting the deportation of EU nationals without their consent.
The Framework Decision on Prisoner Transfers was signed in 2008 and enables countries to deport EU nationals back to their country of origin to serve the sentence, whether they approve of the move or not.
The Shadow Justice Secretary, Sadiq Khan, criticised the coalition Government's efforts to deport foreign prisoners, stating "there are over 11,000 foreign prisoners currently serving their sentence in UK jails – over 1 in 7 prisoners".
This claim comes from a House of Commons Library report on Prison Population Statistics, which provides the proportion of foreign nationals of the total prison population up to September 2011.
The report states that there were 11,076 foreign nationals in prisons in England and Wales as at 30 September, from 225 different countries.
The graph below shows how the proportion of prisoners from beyond these shores has changed over the past 16 years, with the level now much higher than it was in the years between 1995 and 2000.
Furthermore, the table below breaks these figures down on an annual basis. These show in more detail the faster increase to the foreign national population in prisons in comparison to UK nationals. Comparing 1995 to 2011, there has been a 171 per cent increase in foreign prisoners in comparison to a 60 per cent increase for UK nationals in the same period.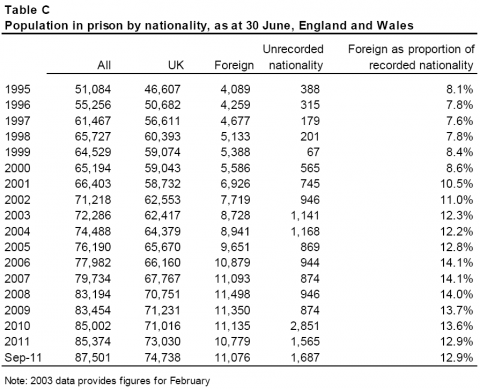 So, what impact will the new framework have?
On the 28 November a Written Answer was provided to Sadiq Khan on the number of foreign prisoners of each nationality being held in prisons in England and Wales at the end of the previous month. Taking the figures for each of the EU-27 countries, there are a total of 3,776 EU nationals in prisons in England and Wales, representing nearly a third of the total number of foreign nationals behind bars.
If all these were deported, the proportion of inmates that were not British nationals would drop to 8.9 per cent, a level last seen over a decade ago. However we will have to wait to see whether or not this is indeed the end result of the EU's decision.