The debate regarding Scottish independence has become an increasingly hot topic after Alex Salmond achieved a first majority for the Scottish National Party in the Holyrood election in May.
Since the SNP won the mandate for a referendum on Scottish independence, pressures are increasing for a date to be decided, which in turn is triggering speculation about what the outcome might be. This comes as the Scotland Bill – which will devolve some of the responsibilities for the finances of the Scottish Parliament – makes its way through the House of Lords.
The BBC Politics Show on Sunday featured interviews with Scotland Secretary Michael Moore and Scottish First Minister Alex Salmond, who both made contrasting claims about the level of enthusiasm for Scottish independence.
Mr Moore, in reference to a TNS opinion poll conducted by the show, said: "I think that very interesting poll shows us that the demand for independence is actually still at the kind of historical levels that it has been, at under a third, and indeed over the last month, declining."
Conversely, Alex Salmond said support for independence is increasing, and that "the vast majority of the people of Scotland, at two to one, want to go much, much further than the Tory-Liberal coalition of Westminster are proposing."
But what do these contrasting snapshots tell us about the level of support for independence?
Since there are two versions of opinion polls on Scottish independence, we did face some difficulties in making accurate comparisons over time.
Some provide merely a 'yes/no' vote on independence, while others provide a threefold option.
The latter asks whether adults would vote for complete independence, 'devo max' – an option proposing fiscal autonomy while remaining within the UK with Scottish taxes and welfare system – or maintaining the status quo.
'Devo max' would provide substantially more fiscal power for Scotland than the Scotland Bill is due to provide. The draft Referendum Bill proposes that Scottish voters would be asked both forms of these questions.
Turning to the polling, and first to the TNS-BBC poll conducted in October 2011 which Mr Moore references, we found that this put forward the three choices, and found that independence was the least popular choice among Scottish voters. 28 per cent supported independence, 33 per cent backed 'devo max', while 29 per cent wanted no further constitutional change.
Conversely, a yes/no poll conducted by TNS in September 2011 which surveyed Scottish adults on how they would vote in an immediate referendum on Scottish independence found that 39 per cent supported independence, 38 per cent opposed it, while 23 per cent remained undecided.
According to TNS, support for independence was up from 37 per cent in the wake of the SNP's victory in May, while opposition to independence in the poll reached the lowest level since August 2007 when the polls began.
The graph below shows how TNS have recorded changes in opinion over time under the yes/no survey.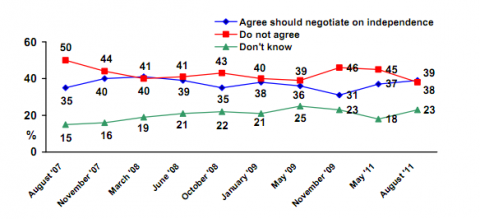 So while TNS polls might appear to show a drop in the proportion supporting independence between September and October 2011, the fact that the former offered respondents two choices while the more recent survey proposed three means that these results are not comparable.
However a comparison of YouGov surveys since 2008 does show a decrease in support for independence.
According to a YouGov/Sun report published in May 2011, back in April 2008 around 34 per cent of Scots supported independence, with 51 per cent opposed and 15 per cent undecided.
Almost a year later the same polling company found 33 per cent would vote yes for Scottish independence, 53 per cent would vote no, 4 per cent would not vote, and 10 per cent did not know.
The 2011 report found support had declined further, with 29 per cent backing independence, 58 per cent opposed to it, and 13 per cent did not know.
Full Fact could not get hold of a YouGov report for 2010 to the full picture of the trends over time, however there does appear to be a large decrease in the proportion supporting independence since 2008, and an increase in those against independence.
In contrast, Ipsos MORI polls show an increase in support for independence from 2009 to 2010. An Ipsos MORI poll in November 2009 based on the three-part question found that 20 per cent supported independence, 46 per cent wanted increased powers, while 32 per cent were happy with the status quo.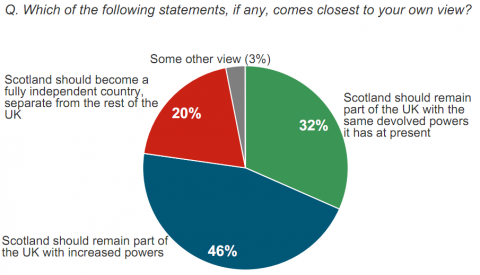 The same poll, conducted in November 2010, found that 22 per cent wanted independence, 44 per cent wanted increased powers and 32 per cent wanted to stay the same.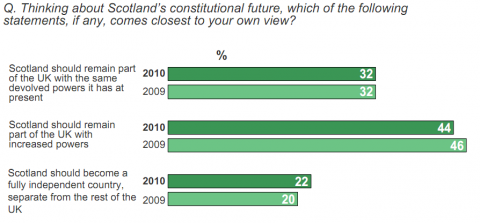 The results are not out yet for the same poll for this year if it is to be repeated. However, there was one published in August 2011 which was based on a yes/no question and found that of those certain to vote, 35 per cent wanted independence, 60 per cent did not and 5 per cent did not know.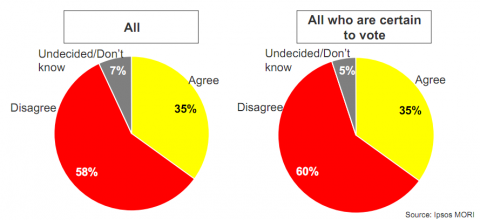 So, looking back at the claims, were they correct?
In the threefold polls, support for independence does in general remain below a third, as Michael Moore claimed. However, when looking at the yes/no polls, for example in the TNS 2007-2011 series, support for independence hovers above one third.
However Alex Salmond's claim that two to one Scottish voters wanted to go much further than Westminster is proposing can also be stood up: 'devo max' offers further reforms than the Scotland Bill and by combining those in favour of this option with those backing independence in the latest TNS poll, 61 per cent want further reforms.
Update (15/10/2012):
Since writing this article several readers have been in touch to ask for more up-to-date polling. We'll of course keep an eye on any developments, but TNS have been keeping tabs on opinion on independence with some regularity. As the below chart shows, in recent months there has been an decrease in support for independence, with those wishing to maintain the union now enjoying a 20 point lead: