Ed Miliband: "This week we heard that retail price inflation was at its highest level since the last conservative government."
David Cameron: "Actually to put him right, CPI – which is the measure we all now recognise – was last at this level in 2008, when he was in government."
Ed Miliband: "We've got the highest inflation of any other EU country apart from Estonia."
Prime Minister's Questions, 19 October 2011
After the Office for National Statistics (ONS) announced large increases in inflation yesterday, the Labour party were quick to argue that "the Bank of England has been put in an impossible position by George Osborne."
Picking up on this theme at PMQs, Labour Leader Ed Miliband accused the Prime Minister of presiding over the highest rate of inflation since John Major was in office. However this wasn't something that was accepted by David Cameron, who instead claimed that Ed Miliband had been in government when inflation had last hit these levels.
Who then is right?
Although the two seem to be disagreeing about the figures, they are in fact talking about separate measures of inflation, and therefore both are correct.
The Prime Minister is right that the Government has favoured the use of the Consumer Prices Index (CPI) measure of inflation, not least as this is the measure that was deemed internationally comparable under the Maastricht Treaty (and is therefore the measure used by Ed Miliband in his second point about only Estonia outstripping UK inflation rates).
Although CPI has not been higher than it is at present since the Conservatives were last in government, it did equal last month's rate of 5.2 per cent annual growth in September 2008 under a Labour administration.
However the Leader of the Opposition is explicit in noting that he is referring to the Retail Price Index (RPI), which is also recorded by the ONS. This reached 5.6 per cent last month, while it peaked at 5 per cent in 2008. Ed Miliband is therefore justified in saying, as the ONS do, that it "was last higher in June 1991 when it stood at 5.8 per cent."
Similarly, Mr Miliband's claim that only the Estonian economy is seeing faster inflation than Britain among the EU nations is also correct.
Both Eurostat – the EU's official statistics body – and the OECD record international rates of inflation, and the Labour Leader is referring to the former.
In September 2011 Estonia's HICP (Harmonised indices of Consumer Prices, the comparable measure used by Eurostat) was 5.4 per cent, 0.2 percentage points higher than the UK's.
Eurostat's database does note that two countries do have inflation rates that outstrip even Estonia's – Iceland (5.6 per cent) and Turkey (6.1 per cent) – although neither of these nations are yet members of the European Union.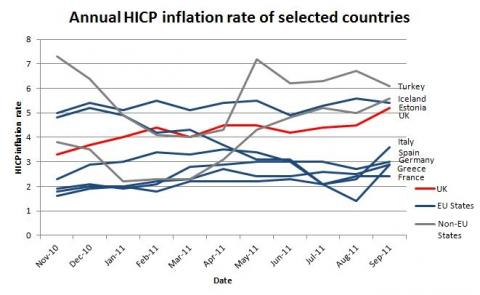 If OECD tables are used, the UK actually places higher than Estonia. However the OECD compiles the CPI rates reported by countries' own statistics offices, without accounting for issues of comparability. For this reason, the OECD notes that Eurostat "provide the official measure of consumer price inflation in the euro-zone." Labour deserve credit for following this guidance despite the OECD offering a more politically-striking ranking for the UK.
Conclusion
As we've often seen in recent PMQs exchanges, while both Ed Miliband and David Cameron gave the impression of disagreement in the interpretation of inflation figures, they were in fact each relying on separate measures of inflation.
While we're pleased that both leaders used the stats they did correctly, by giving the impression of contradiction where in fact there was none, many observers of PMQs might have been left confused.