"Then, in 1997, Labour came to office. Any reading of the figures shows that until that point, immigration was well managed… Net immigration – the difference between those arriving and those leaving – has been running at 150,000 or more for nearly 15 years." The Daily Telegraph, 14 April 2011.
"Cameron is trying to portray this as Labour presiding over a period of mass immigration. But if he looked a little further back in the long-term migration figures, he would see that the turning point was 1991, not 1997. The period from 1991 – when John Major was in No 10 – to 1997 saw total net migration of 2.5 million." The Guardian, 14 April 2011.
Following David Cameron's intervention into the immigration debate yesterday, and the resulting volley of claims and counter claims, there has been a flurry of media articles on immigration.
In particular, a large amount of attention has been paid to the long-term trends of rising migration to the UK.
Full Fact wanted to look more closely at what the long-term picture of immigration has been, and when the recent surge started.
Comprehensive data on long-term international migration from 1991 to 2009 is available from the Office for National Statistics (ONS). The data comes from the International Passenger Survey, and is adjusted to include other data sources on migration, such as from the Home Office.
The graph below shows the trends in net and gross UK migration.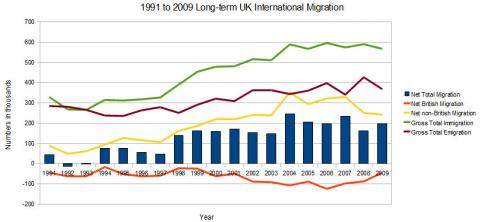 The figures show that a large jump in net migration occurred in 1998, with numbers running above 150,000 from 1999 to the present (except for 2003).
There is no obvious trend to increased net UK migration from 1992; and the ONS figures show that from 1991 to 1997 there was net total migration of 286,000. Gross migration into the UK over the same period was 2.13 million, still short of the Guardian's 2.5 million figure.
Over the full period there has been a trend of negative net migration of British citizens.
Data on migration from 1975 to 1990 is also available from the ONS; however this data is non-adjusted and solely based upon the International Passenger Survey.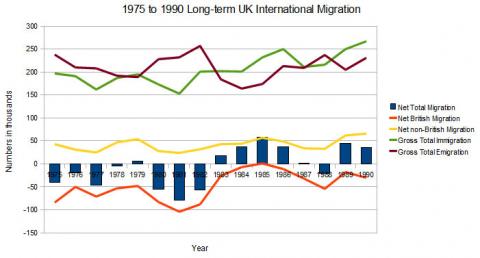 The non-adjusted International Passenger Survey figures paint a very different story of net migration between 1975 to 1990. Over this period, net total migration was -85,000; with high levels of British citizens leaving the UK from 1975 to 1982.
Conclusions
Total net migration to the UK rose sharply from 1998 onwards, with levels being above 150,000 in all but one year since 1999.
The Daily Telegraph's reporting of the longer term trends is therefore correct; although even when including 2010 preliminary data, net total migration has been above 150,000 for 11 years, closer to 10 years than the Telegraph's 15 years.
However, the Guardian's claim that current trends in higher net migration since 1991 is not borne out by the ONS migration statistics, which further show net total migration between 1991 and 1997 at 286,000 rather than the Guardian figure of 2.5 million.
We have contacted the Guardian to ask for more information on the sources for the figures they report. We have also been in contact with Oxford University's Migration Observatory, who also thought that some of the Guardian's figures were "hard to defend based on ONS data".
We will update this article when we hear back from The Guardian.