David Cameron's speech to a PM Direct event in North Yorkshire today has sparked an unlikely statistical spat with his alma mater, Oxford University.
The Prime Minister reportedly said: "I saw figures the other day that showed that only one black person went to Oxford last year. I think that is disgraceful, we have got to do better than that."
However as the University pointed out, this actually refers to the solitary student of black Caribbean descent that 'went up' to Oxford in the last academic year. A spokesperson for the University told the Press Association that "in fact that year Oxford admitted 41 UK undergraduates with black backgrounds," 26 of whom described themselves as black, and 14 of mixed black origins. As the spokesperson also noted, some students declined to give details of their ethnicity, meaning the actual figure could be higher than 41.
Looking at the figures themselves, there is nevertheless a slightly lower success rate for black students than there was for their white counterparts, although it is worth noting as the Straight Statistics blog has done that a higher proportion of black applicants wanted to read the most oversubscribed subjects than did white applicants.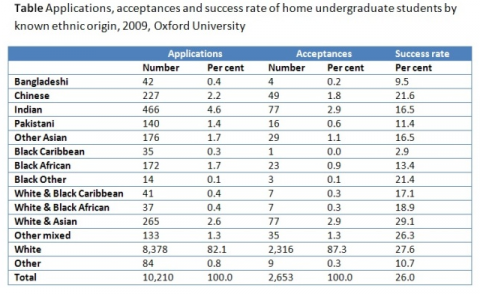 The figures hit the headlines at the end of last year after former University and Skills Minister David Lammy highlighted figures he'd obtained as part of a Freedom of Information request (although the figures are published by Oxford here). As he told the Commons on 6 December 2010, one of the findings was that: "only one black Caribbean student was admitted to Oxford university in 2009-one student."
However this is a nuance that seems to have passed the Prime Minister by, and demonstrates how easily it is for some headlines to lose extremely important context. Full Fact will be keeping tabs on this claim to make sure that neither Mr Cameron nor anyone else repeats this inaccuracy.
*UPDATE* Number 10 has reportedly acknowledged the Prime Minister's error, telling PoliticsHome that he "meant to say black Caribbean."