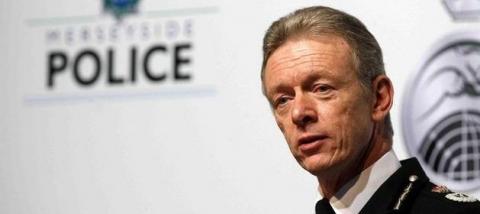 With Bernard Hogan-Howe freshly installed as the new Metropolitan Police Commissioner, many commentators in the press have been setting out the challenges he is likely to face.
The Sun however was sure that the Mayor of London and the Home Secretary had got the right man for the job. Pledging its support to Mr Hogan-Howe, the paper notes that: "As Merseyside chief constable, he cut crime by 40 per cent. He promises similar action to clean up London."
This sounds like a huge decrease, but then the government has reported falling crime nationwide over the same period. In this context, is Mr Hogan-Howe's record quite so impressive?
Mr Hogan-Howe became the Chief Constable of the Merseyside Police force in September 2004. Figures from the Home Office's Crime in England and Wales report show that in that year there were 170,846 crimes recorded by Merseyside Police.
In 2010/11, this had fallen to 100,113, a drop of some 41.4 per cent.
However over the same period, the number of crimes reported in England and Wales as a whole declined by 25.4 per cent, falling from from 5,562,691 to 4,150, 097.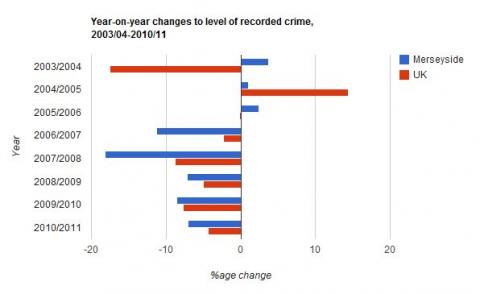 In terms of the crime rate (the number of crimes committed per 1,000 population), the gap is slightly narrower. In Merseyside, this rate fell by 40.8 per cent from 125 crime per 1,000 population in 2004/05 to 74 in 2010/11. Over the same period, the rate for England and Wales fell from 105 to 76, a 27.9 per cent drop.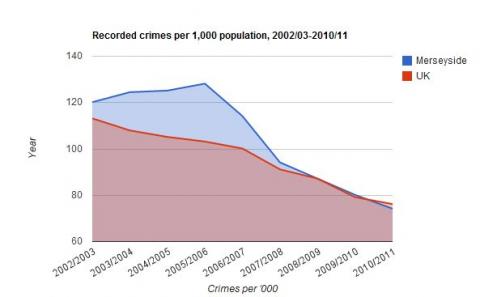 In both instances therefore Mr Hogan-Howe's force has performed better than the national average. The extent to which this can be attributed to the Chief Constable is of course open to interpretation. To put his record in context we could look at the performance of the force prior to his arrival.
This is complicated by the fact that it is not possible to make trend analyses before 2002, as the methodology was changed significantly in this year. However if we limit the analysis to Merseyside's relative performance against the norm in England and Wales, the data suggests that crime rose quicker there than it did in the rest of the country.
In 1997/98, there were 125,316 crimes reported under the old methodology in Merseyside, while 4,545,337 were recorded in England and Wales. Between then and 2004 (when the new methodology was in use), this had jumped 26.7 per cent in Merseyside, and 18.3 per cent in the rest of the country. Given the limitations of this analysis, we should be cautious about any conclusions drawn.
However The Sun is on a sound footing in heralding the 40 per cent drop in crime on Merseyside under Bernard Hogan-Howe, as it does appear that this was a significantly larger fall than was seen in the rest of England and Wales.