The publication of immigration statistics always seems to turn up the same point of confusion in a variety of media outlets.
The statistics published by the Office for National Statistics show that net migration to the UK in 2010 was 252,000 – the highest on record.
But a number of news outlets are already confusing net migration and immigration. This is a bit like mixing up revenues and profits. One is the number coming in, and one is the number coming in minus the number going out.
This 252,000 figure is derived from immigration of 591,000 and emigration of 339,000.
But already we have heard a BBC news reader refer to the 252,000 as the number of extra people coming into the country, which it isn't. It's the net balance of people who came in and out of the country.
The number of extra people coming into the country could just mean the change in immigration from 2009 to 2010. The figures show this went from 567,000 to 591,000 – or 24,000 more people. 
What the statement could instead have said was that there were 252,000 extra people in the UK directly due to migration.
But this is not the only case we have seen of the figures getting muddled. The Daily Mail website headline is 'Immigration soars to record high last year despite Tory promises'.
This is incorrect. While immigration is still high in historic terms, in 2006 inward migration was higher than it was in 2010. The only measure that is at record levels is the net figure, and this related to low levels of emigration as well as immigration.
We have already raised the matter with the BBC, and will be contacting the Daily Mail readers editor to request that the headline is changed and not repeated, should the story make it into tomorrow's print edition.
Update: After we got in contact, the Daily Mail agreed to change the headline of the online article, and informed us it has been noted for future reference.  Time will tell if this will have an impact on the headline in any print coverage tomorrow.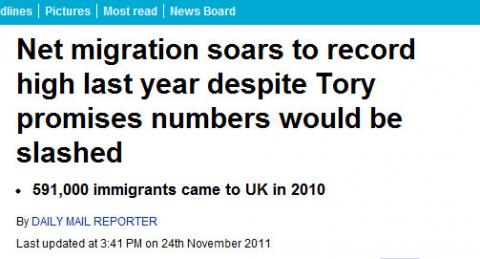 Unfortunately, the Daily Express has also published an online article making the same error as the Mail.
Please get in contact if you come across any other examples.