Since Parliament returned from its Christmas break last month, the turbulent progress of the Government's health reforms towards the statute book has been much-scrutinised.
The topic was singled out by Labour Leader Ed Miliband in both of his most recent two appearances at Prime Minister's Questions, with one point in particular proving ever-controversial: that of waiting times.
Last week, the Opposition Leader and David Cameron seemingly offered different interpretations of the Coalition Government's record:
David Cameron: "Let me tell him what is happening in the NHS: … in-patient and out-patient waiting times lower than they were at the election."

Ed Miliband: "I shall tell the Prime Minister what is happening in the NHS: waiting lists up…"
The Prime Minister repeated the claim at this week's showdown, telling Mr Miliband that: "Waiting times are down…  He should be praising the good things that are happening in the health service."
As we've found in the past, the accuracy of competing claims about NHS waiting times often depends upon through which particular prism you choose to view the issue.
Official NHS data records three different measures: the average (median) time taken for a patient's procedure to be completed in weeks; the period in weeks that the longest-suffering 5 per cent wait for treatment; and the proportion of patients seen within 18 weeks.
Unfortunately for clarity, each measure gives a very different picture of what is happening to waiting times.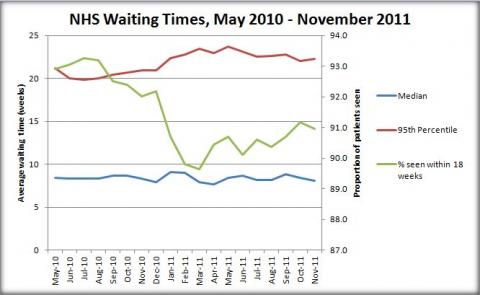 When the present Government took office, the median waiting time stood at 8.4 weeks, since then it has peaked at 9.1 weeks in January last year before falling back to 8.1 weeks (November 2011 – the most recent point for which there is data). Using this indicator, the PM would seem to be right that waiting times have fallen.
However, over the same period, the proportion of patients waiting more than 18 weeks for treatment has increased. In May 2010 92.9 per cent were seen within this time, whereas in November 2011 this had fallen to 91 per cent. This data might therefore lend support to Ed Miliband's claim.
The third measure – the 95th percentile of those waiting the longest for treatment – has also ticked upwards slightly, with this group waiting a week longer now than the 21.2 weeks they were at election time.
Which of these measures offers the fairest portrayal of the trends in NHS waiting times if of course for you to judge – let us know your thoughts over on our Facebook page.