Earlier this month, Full Fact investigated claims made by the Daily Mail that school exclusion rates for physical and verbal assault in England had doubled in one year. They stated that official figures showed that exclusions had jumped from 452 a day in 2008/09 to almost 1,000 in the following year 2009/10.
We took a closer look at the official figures and found that not only had the figures for 2009/10 not yet been released, but the almost 1,000 exclusions per school day was actually a figure which seemed to correspond to the year 2008/09, for which the Daily Mail gave a figure of 452 a day.
Furthermore, even accepting this apparent contradiction as a typographical error in terms of academic years, and assuming that the Mail was instead referring to the consecutive 2007/08 and 2008/09 years, the claims still did not add up.
We even contacted the Department of Education, who confirmed that rates had not doubled in the last two years, but had in fact remained fairly stable.
Today, the DfE published the most recent statistics on school exclusion rates for 2009/10. The figures show that in last year 165,440 children were excluded for physical and violent abuse, which works out at around 871 pupils per school day (190 days).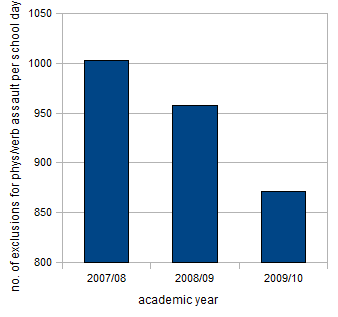 What this seems to show is that not only did school exclusion rates not double in the two previous years, but that they actually continued to fall in the last year from 958 per school day to 871.