A number of media organisations – the the Independent, the BBC, and the Daily Mail – reported yesterday on research analysing the performance of poor pupils and struggling schools, emphasising the widening gap in performance between poorer pupils and those that are better off.  
However, focusing simply on the difference between poorer students and their wealthier peers oversimplifies the findings of the report. The report, published by the Education Endowment Foundation (EEF), is specifically concerned with students that both receive free school meals (FSM) and attend schools that fall below the government floor for standards in national exams.
This group makes up roughly one in 40 students. This research suggests that performance among this group failed to improve, while non-FSM students in schools above the base standard were performing better.
The gap means, as the Independent reports, that FSM students in below-floor secondary schools are "a third as likely to reach the minimum standard in comparison with their better-off peers," and "half as likely" to do so in primary school.
But a look at the report suggests that the schools themselves could be as important a factor as the economic status of the students.
For instance, poorer students in above-floor primary schools have actually improved their performance each year since 2006, while non-FSM students in below-floor primary schools have seen 7 per cent drop in performance since 2008. The full numbers can be seen in the report's graph: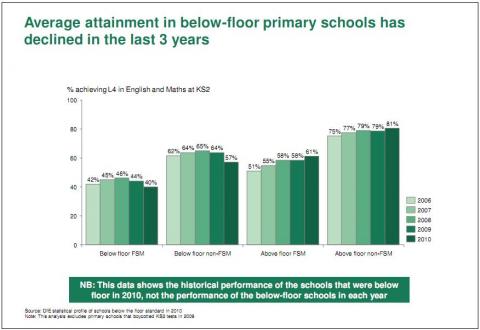 This is not to say that it is wrong to express concern about the academic performance of poor students, because they do perform less well than the wealthier students in similar schools.
However, there is a danger that the nuance of the report could be lost in the media. For example the Independent covered the story under the headline: 'Three in five of the poorest 11 year olds lack basic literacy'. As explained above the report looked at the relatively small proportion of children on FSM at under-performing schools, rather than the entire FSM contingent.
Headlines focusing solely on poor students run the risk of glossing over the point that performance for all students in below-floor primary schools is declining.