In brief
Claim
The number of deaths in police custody is at the highest level in five years.
Conclusion
There were 17 deaths in 2014/15, according to official figures; the highest in four years, rather than five.
"Deaths in police custody at highest level for five years."—The Guardian, 23 July 2015
There were 17 deaths in or following police custody in 2014/15, according to the latest figures from the Independent Police Complaints Commission (IPCC).
This is an increase from 11 in the previous year (a record low) and is the highest level since 2010/11 when there were 21 deaths; so the current figures are the highest level for four years not five. They are also less than half that of 2004/05 (36 deaths) when IPCC records began.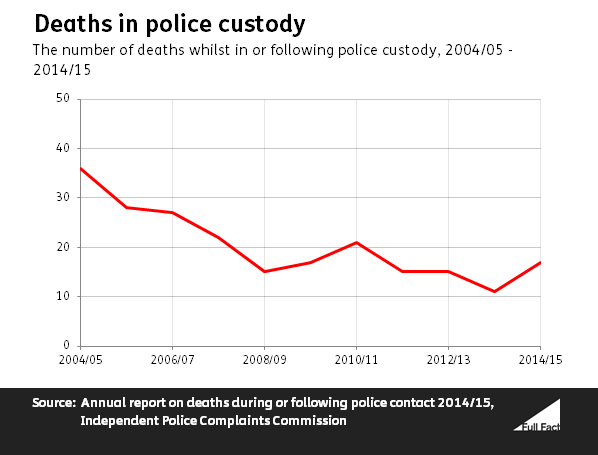 Although the deaths occurred during or following police custody, the cause is not defined; they could be a result of other incidents such as a long term health condition rather than a direct result of being taken into custody.
The latest statistics from the IPCC were released just hours before Home Secretary Theresa May announced an independent review of deaths in police custody. The review will include an investigation into the restraint methods used by police officers.
Alternative figures on the number of deaths in police custody are published by Inquest by calendar year rather than financial year and use a slightly different definition to the IPCC. The most recent complete years of data agree with IPCC that the number of deaths has increased; they suggest 20 deaths occurred in custody in 2014, up from 17 in 2013.
Isn't it nice to have the whole picture?
We rely on your donations to continue and grow our factchecking efforts - to help us maintain our independence we need 1000 donors to give £10 a month. We are currently at 502 - please help Full Fact grow.
---