"Devastating figures released over this summer show that £9.3 billion of public money is paid through housing benefit directly into the pockets of private landlords."

Jeremy Corbyn, 7 September 2016
£9.3 billion in Housing Benefit spending was for payments to private sector renters in 2014/15, if you adjust for inflation. This is the latest year there are confirmed figures for.
Technically this doesn't go directly to private landlords. The housing charity Shelter says that most private renters get the money paid into their bank account.
By contrast, Housing Benefit is usually paid directly to the landlord when it comes to council or housing association homes.
In the same year £9.4 billion was paid in Housing Benefit on behalf of housing association tenants, and £6.1 billion to councils in their role as landlords. So payments to private tenants made up 37% of all Housing Benefit payments that year.
It'll be a similar proportion in 2016/17, according to government forecasts.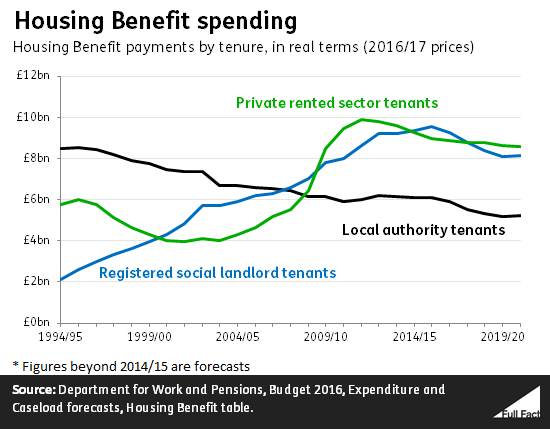 This is slightly higher than the proportion of Housing Benefit recipients, who make up 31% of all recipients. They account for a greater share of Housing Benefit payments by value because they receive more on average: £110 per week, compared to £89 per week for tenants in the social rented sector.
This factcheck is part of a roundup of Prime Minister's Questions. Read the roundup.
We need facts more than ever.
Right now, it's difficult to know what or who to trust. Misinformation is spreading. Politics and the media are being pushed to the limit by advancements in technology and uncertainty about the future. We need facts more than ever.
This is where you come in. Your donation is vital for our small, independent team to keep going, at the time when it's needed most. With your help, we can keep factchecking and demanding better from our politicians and public figures.We can give more people the tools to decide for themselves what to believe. We can intervene more effectively where false claims cause most harm.
Become a donor today and stand up for better public debate, on all sides, across the UK.
---