In brief
Claim
Germany has accepted 800,00 Syrian refugees.
Conclusion
Germany will end up accepting hundreds of thousands of refugees, both from Syria and the wider world, but 800,000 Syrians accepted to date is way off.
"The UK has accepted 216 Syrian refugees. Germany has accepted 800,000."

George Eaton, New Statesman Political Editor, 2 September 2015
Last week we wrote about the claim that the UK has accepted 216 Syrian refugees to Germany's 800,000. While we came to a clear conclusion that the 216 figure wasn't correct (an additional 5,000 Syrians have been granted refugee status or a similar form of humanitarian protection here since 2011), we didn't address the claim that Germany has accepted 800,000 Syrian refugees.
A reader has asked whether that's accurate.
Germany hasn't accepted 800,000 Syrian refugees, on any measure

From 2011 to 2014, Germany received around 460,000 asylum seekers in total, from all countries. It expects to receive 800,000 in 2015, again from all countries (not just Syria), and a significant proportion of these will not be given refugee status.
Only 210,000 of these projected 800,000 had applied for asylum in Germany by the end of July, according to Eurostat figures, but the government says that its forecast reflects the greater number of people actually entering the country intending to apply, not just those already in the system.
Fewer than 50,000 Syrians applying for German asylum this year so far
Something like 40,000 or 45,000 (depending on your source) of the people who had begun an asylum application in Germany between January and the end of July this year were Syrian. Since the start of the Syrian crisis in 2011, around 105,000 Syrians have applied for asylum in Germany, compared with 7,000 in the UK. Most of them are likely to be accepted as refugees.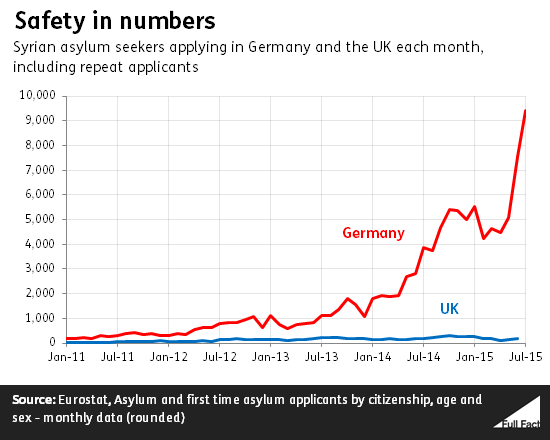 Granted, that doesn't take into account the lag time in application processing mentioned by the German government, or indeed the influx of the past few weeks. But it's still a long way off 800,000.
Germany has, in addition to the ordinary asylum process for people who make their own way there, made available 35,000 places for refugees to be resettled from the Syrian region. There are also new EU proposals for 160,000 asylum seekers to be relocated from EU countries like Greece, Italy and Hungary, of which Germany would take a large share.
So there's no doubt that Germany will end up accepting hundreds of thousands of refugees, both from Syria and the wider world.
With Brexit fast approaching, reliable information is crucial.
If you're here, you probably care about honesty. You'd like to see our politicians get their facts straight, back up what they say with evidence, and correct their mistakes. You know that reliable information matters.
There isn't long to go until our scheduled departure from the EU and the House of Commons is divided. We need someone exactly like you to help us call out those who mislead the public—whatever their office, party, or stance on Brexit.
Will you take a stand for honesty in politics?
---