In 2016, an estimated 250,000 citizens from other EU countries immigrated to the UK, and about 117,000 emigrated abroad. So EU 'net migration' was around 133,000.
Estimated non-EU immigration and net migration have historically been higher, but non-EU immigration is now at similar recorded levels as those for the EU.
That said, the most recent figures we have suggest we might be seeing a return to this historic trend.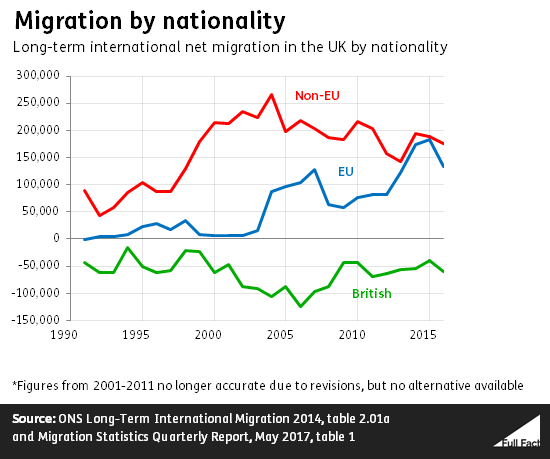 EU immigration has fallen since the referendum
The most recent set of figures published cover 2016 — so they cover six months since the referendum.
Those figures suggest EU net migration has fallen (as well as non-EU net migration). The fall in EU net migration—by 51,000—is large enough that we can be pretty certain it's a genuine fall.
This fall was driven by a drop in net migration by Eastern European citizens (Czech Republic, Estonia, Hungary, Latvia, Lithuania, Poland, Slovakia and Slovenia).
The numbers are uncertain
These figures have a margin for error because they're mainly based on surveys of passengers at airports. Net migration from the rest of the EU in any one year could usually be around 30,000 more or less than the estimates.
That means that small changes in immigration from one period to the next might not actually represent what's really happening. With larger changes we can be more certain.
These figures also define immigrants and emigrants as people who change their country of residence for at least a year—which is called 'long-term migration'. There are separate estimates for the numbers of people who come to the UK for less than a year.
There's been controversy over whether long-term estimates accurately reflect immigration at all.
Reasons for coming here
The majority of citizens from other EU countries say they come to work or to find work. Others usually come to study or to join family members in the UK.
That contrasts with non-EU immigrants, who mainly say they come to study.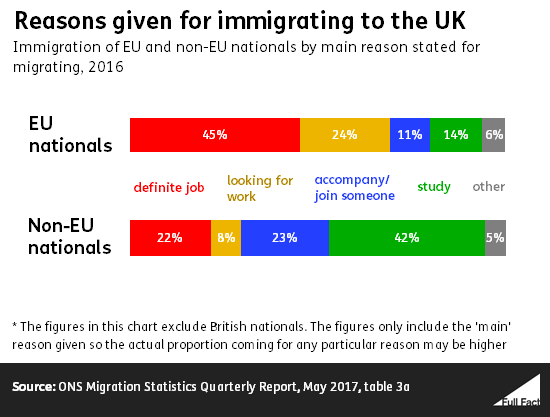 The proportion of EU citizens coming for work had been rising in recent years (although it has now levelled out), which is thought to be related to the expansion of the EU and people leaving southern European countries experiencing economic problems.
EU net migration is at historically high levels
In recent years annual net migration from the rest of the EU has been at historically high levels. Up until the year ending September 2016 it was at an estimated 160,000 to 190,000 and had been for the last two years. Back in 2010 it was nearer 70,000 a year.
As the Migration Observatory at the University of Oxford points out, when the EU expanded in 2004, the UK was one of three countries which opened its borders straight away to workers from the new member states.
The new estimates for the 2016 calendar year suggest  EU net migration has now returned to a level similar to that last seen in 2013.
Three million EU citizens in the UK
Around 3.2 million people living in the UK in 2015 were citizens of another EU country. That's about 5% of the UK population. A similar proportion were born in the rest of the EU.
Around 2.3 million nationals of other EU countries are in work, as of earlier this year. That's about 7% of people in work—the highest on record.
Figures from last year suggested just over half—around 1.6 million—of the EU nationals living here arrived between 2006 and 2014.
EU nationals of working age are more likely to be in work than UK nationals and non-EU citizens. About 80% of working age EU citizens in the UK are in work, compared to around 75% of UK nationals and 60% of people from outside the EU.
1.2 million people from the UK live in the rest of the EU
Figures for 2015 suggest that 1.2 million people born in the UK live in other EU countries. We've previously looked at all the estimates in detail.
Find out more
Update 7 June 2017
We updated one of the figures in the 'reasons given for immigrating to the UK' graph from 41% to 42% to account for rounding error.
Isn't it nice to have the whole picture?
We rely on your donations to continue and grow our factchecking efforts - to help us maintain our independence we need 1000 donors to give £10 a month. We are currently at 351 - please help Full Fact grow.
---