"The UK now has the fastest rising unemployment of any European Union country apart from Greece"
Daily Mirror, 19 January 2011
Following Wednesday's release of the latest labour market statistics the Mirror claimed that UK unemployment was rising at a faster rate than in any other EU country bar Greece.
Full Fact was interested to discover if this statement is true.
Analysis
The most obvious location of the Mirror's data is the ONS document from which yesterday's unemployment headlines were drawn. The publication included a comparison of UK unemployment rates with the rest of Europe. The table is based on data from Eurostat; the EU's statistical department.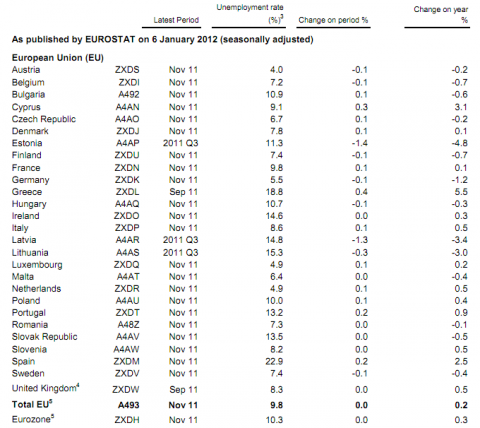 *The UK's data is from September 2011 in this data. The November 2011 rate is 8.4 per cent, thus altering change on period to 0.1. Change on year is the same.
The centre column shows percentage point increase quarter on quarter. Twelve countries appear to have unemployment rates growing quicker than the UK. 
The right-hand column in this table shows the percentage point increase in unemployment of each country, year on year. These figures clearly show that Greece, Spain, Cyprus and Portugal have each experienced a sharper increase in unemployment than the UK.
However, these statistics show percentage point increase rather than actual percentage increase. For instance, the UK's percentage point increase year on year is 0.5 per cent, but its percentage increase is 7.7 per cent.
Therefore it is also useful to study percentage increase in order to assess whether the UK does indeed sit in second position. Examining the figures in more detail, Eurostat gives details of unemployment figures over the past year, month by month.
These statistics date back to January 2011 and show that the countries whose rates are rising fastest are Cyprus, Greece, Netherlands and Spain.
Unemployment in Cyprus rose from 6.4 per cent to 9.1 per cent (up 42 per cent) between January and November 2011 of last year. Greek unemployment rose from 14.7 per cent to 18.8 per cent (up 27.9 per cent) until October. The Netherlands meanwhile increased from 6.4 per cent to 9.1 per cent (up 14 per cent) until November. Spain's unemployment rose from 20.5 per cent to 22.9 per cent (up 11.7 per cent) between January and November.
The UK's growth in unemployment from January to November stands at 7.7 per cent. Therefore, when measuring unemployment throughout 2011 in terms of percentage increase, four countries appear to have an unemployment rate rising significantly faster than the UK.
Perhaps we should consider unemployment rates based on longer time-scales in order to shed light on the Mirror's claim.
The table below, also from Eurostat, shows unemployment figures from 2000 and 2010: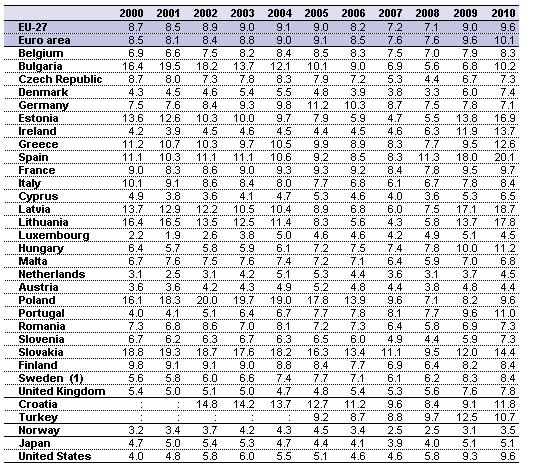 However, whether long or medium-term comparisons are examined on this scale, Spain, Greece and several other countries have still seen unemployment grow at a faster rate than the UK.
Even looking at the increase in unemployment since the financial crisis of 2008, the UK has seen its unemployment increase by around 50 per cent, while the table above illustrates that nine other countries exceed this figure with Cyprus and Greece unsurprisingly leading the way.
Conclusion
According to ONS and Eurostat data, the Mirror's assertion that the UK has the second fastest rising unemployment rate remains elusive. 
Full Fact's calculations show that, on several different parameters, there are at least three other EU countries where unemployment rates are rising rising faster than in the UK.
It could be that the Mirror has uncovered further data on which its claim is based, or is using a different measure of unemployment. Full Fact will be enquiring as to the source of their data.