"The number of abortions has risen by 8 per cent over the past decade with more than a third now involving women who have previously had terminations." Daily Telegraph, 24 May 2010
"The number of terminations had been falling steadily since 2006 – until a rise of a fraction of a per cent last year." Daily Mail 25 May 2010
The emotive issue of abortion is unsurprisingly one that will make the headlines whenever new information comes to light.
The latest data, published yesterday by the Department for Health (DH), has been picked apart by today's papers with a raft of different stats making it into print.
With the Telegraph concentrating on an 8 per cent rise in abortion numbers over the last ten years, it was the Daily Mail who suggested this hadn't quite been a steady trend throughout the decade.
Analysis
Looking at the figures from the abortion statistics bulletin itself, the 8 per cent rise is backed up by the figures. For women resident in England and Wales the level rose from 175,542 to 189,574.
Though the Mail claims that the downward trend began in 2006 (it began in 2007), the point that the number had been coming down in recent years is also backed up by the figures.
In 2006 the total number of abortions (including non-residents) was 201,173, which went up to 205,598 in 2007, almost 10,000 higher than the current level.
But the overall numbers are only one way of looking at the issue. DH also produces data on the 'abortion rate' (number of abortions per 1,000 women aged 15-44.)
Approached this way, the 0.3 per cent rise in the number of abortions for resident women produced no change in the abortion rate from 2009 to 2010, remaining steady at 17.5 per cent.
The age standardised rate is, however, higher than a decade ago, but while abortion numbers grew 8 per cent between 2000 and 2010, the increase in the rate was 3 per cent, going up from 17 per thousand to 17.5 per thousand.
The graph below shows shows the age standardised rate for abortions since 1970.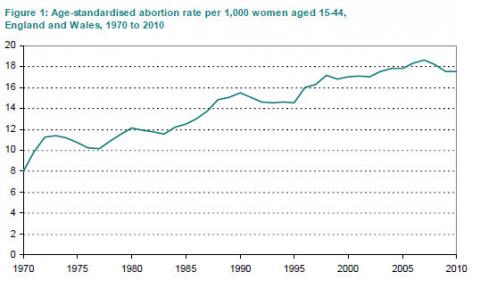 Conclusion
Though the reporting of the figures in both articles is accurate, in this case the Mail has the coverage that is more representative of the figures.
Both papers covered the 8 per cent rise over ten years, but it was the the Mail who explained that last year's 0.3 per cent rise was preceded years when the number of abortions fell.
Likewise, checked against the statistical bulletin the Mail's figures on the number of women who have had more than one abortion stand up to scrutiny.
Update (May 2012):
The latest set of abortion figures, released in May 2012, show that in 2011 189,931 procedures were carried out, a very slight increase of 0.2 per cent.