"The reality is we have some of the lowest energy prices in Europe. We could get them even lower. The country with the lowest energy prices at the moment happens to be France"
Chris Huhne, Energy & Climate Change Secretary, The Andrew Marr Show, 10 July 2011
Following a recent announcement by British Gas that gas and electricity prices will rise by 18 and 16 per cent respectively, a debate has erupted in the press surrounding exactly how much UK energy users are paying or how much they will pay in future.
Over the weekend Energy and Climate Change Secretary, Chris Huhne, was challenged over a report by the Consumer's Association which claimed that the UK's electricity bills were set to rise, making them among the 'highest in Europe'.
Mr Huhne rejected this analysis, and insisted that UK energy prices were low compared to most of our European neighbours. Following the interview, one Full Fact reader asked us to look into his numbers.
So exactly how high are the UK's energy prices and are Mr. Huhne's claims well justified?
Analysis
Figures from Eurostat confirm that, as of December 2010, the UK is 16th out of the 27 EU countries in terms of average electricity prices and 20th out of 23 countries for gas – and hence can be said to have the lowest rates by virtue of being in the bottom half of EU states for prices in both cases.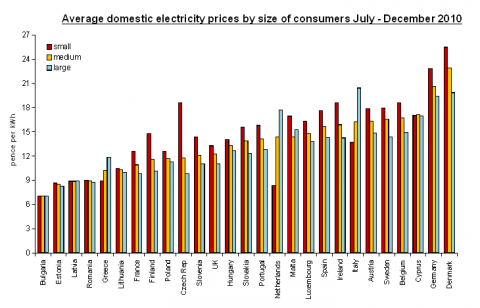 While such figures back up Mr. Huhne's claim, it is worth considering what kind of prices are being analysed. The comparative price levels for consumers include taxes such as VAT and direct taxation on electricity. As the graph below shows, out of all 27 EU states, the UK has one of the lowest VAT markups on electricity and gas prices (in 2009) and no additional taxes, meaning UK energy users are relatively lightly taxed compared to other EU countries.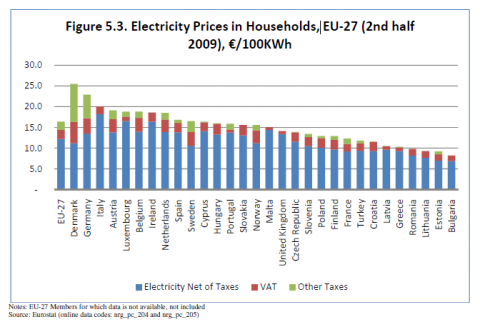 This difference in taxation potentially changes the figures. Including taxes, the UK's prices are €14.49 (per 100KWh) compared to the EU average of €17.08. But without taxes, electricity costs are €13.8 for the UK compared to only €12.39 for the EU average, placing the UK 10th out of 27 countries.
So the UK's 'low' prices seem to be due to relatively lower Government taxation, rather than any access to cheaper sources of energy. Excluding tax, electricity costs  before taxation are indeed amongst the highest in Europe.
Another claim made by Mr. Huhne is that "The country with the lowest energy prices in Europe at the moment happens to be France". Based on the figures above this does not appear to be completely accurate.
To be fair, we cannot rule out a slip of the tongue, given that this contradicts what he claimed in a speech at the end of June that France enjoys "some of the lowest prices".
The most he can claim is that France has the lowest prices amongst electricity consumers using more than 5,000 KWh annually, and even then only amongst the original 15 EU members. However a more reasonable measure taking into account the median consumer (using between 2,500 and 5,000 KWh annually) and including all 27 EU states, gives France the 7th cheapest prices in the EU.
On gas prices however, the picture is much further from Huhne's original claim. Including 23 EU states in Eurostat's figures, France is the 9th most expensive country for gas prices. The difference between electricity and gas is thus an important one in the energy debate.*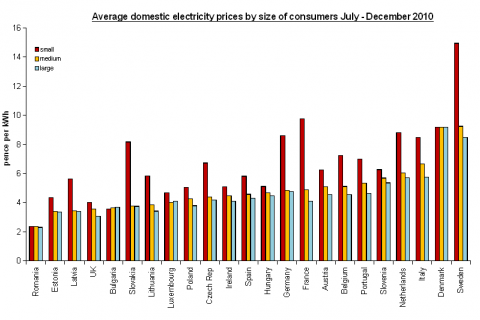 The final point in Mr Huhne's claim that prices will get lower is more contentious. As explained, the Secretary of State was being quizzed on a report from the Electricity Policy Research Group's suggesting that UK energy users' bills will rise by 32 per cent over the next 20 years.
Mr. Huhne disputed these figures and claims long-term savings will be made elsewhere, bringing prices down.
Full Fact has contacted the Department for Energy and Climate change for more detail on the points of contention with the EPRG report, and will assess their response.
Until we have more information it is not possible to assess the credibility of the claim that our relatively low prices will get even lower
*The figure below seems to show average gas prices, despite being labelled as electricity prices.