"Whilst jobs are being lost in the public sector, jobs are not being created in the private sector."
Ed Miliband, Prime Minister's Questions, 26 January 2011
With the latest set of GDP figures showing an unexpected return to 'negative growth' and last week's labour force statistics revealing rising unemployment, the economy dominated the agenda at today's PMQs.
Leader of the Opposition Ed Miliband referenced the situation in the labour market to add weight to his suggestion that the Government needed to rethink its deficit reduction strategies.
However the figures behind his claim paint a more complex picture than Mr Miliband allows for, and they merit further investigation.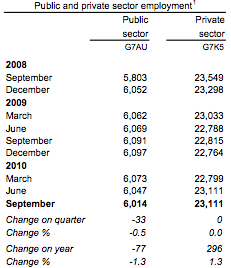 Whilst the Labour Leader's assertion is an accurate portrayal of the movements of the labour market in the last quarter – during which time there has been a net loss of 33,000 jobs in the public sector, with the number of jobs available in the private sector remaining steady at 23.1 million – a longer view provides an alternative perspective.
Over two quarters – which takes us back to March, the last point at which employment was measured when Mr Miliband was in Government – the number of jobs has increased by some 312,000.
Over the course of the year private sector employment is also up, rising from 22.8 million jobs in September 2009 to 23.1 million in September 2010, a 1.3 per cent rise year-on-year.
With regard to public sector employment there is a more consistent longer term trend, with the number of jobs falling in the last four quarters, with 77,000 fewer jobs available in September 2010 than there were 12 moths before.
So whilst Ed Miliband isn't wrong to point to the figures he does, their relationship to his wider point – that the private sector isn't strong enough to pick up the slack from a shrinking public sector – is more complex.
Indeed if a longer-term perspective is taken it's easy to come to conclude the opposite, given that over the past year, the number of private sector jobs have actually grown by the exact same proportion as there have been losses in the public sector: 1.3 per cent.