"The proof exam results HAVE been inflated: OECD warns UK schools are out of step" The Daily Mail, 17th March, 2011.
"Today's OECD Economic Survey of the UK… contains some devastating passages about our education system" The Spectator, 16th March 2011. 
Wide-ranging reports from respected think tanks often become points of contention between various sides in a debate, as they scan for quotes vindicating their argument.
One has only to look at the scramble for supportive quotes any time the Institute for Fiscal Studies publishes an assessment to see this in practice.
Yesterday the Organisation for Economic Co-operation and Development (OECD) published a report which, according to the Daily Mail and the Spectator, painted a negative picture of the state of British education.
As OECD reports are authoritative and well-respected, it is worth looking at these articles and what the Organisation itself said.
Analysis:
The Daily Mail led their article on the issue of 'grade inflation', reporting: "Exam grades have been artificially inflated… It is further confirmation of what many have long suspected: that relentlessly improving GCSE and A-level results have hidden a true picture of failure in our schools. The report… concludes that pupils' actual performance remains 'static' and 'uneven'. The share of A-levels awarded at grade A has risen continually over the past 18 years and trebled since 1980, it says, but independent surveys of students' cognitive skills 'do not support this development'."
This is a more or less fair reporting of the OECD findings on grade inflation. The report states: "Evidence suggests that improvement in exam grades is out of line with independent indicators of performance, suggesting grade inflation could be a significant factor." The table below shows the change through time of official grades and test scores versus independent tests. A past Full Fact article has also addressed the grade inflation debate.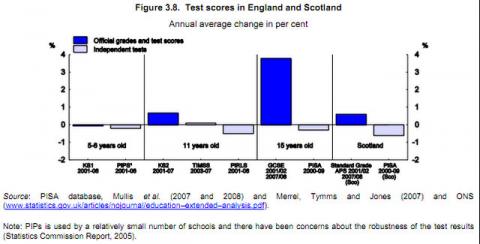 The report is also concerned that: "the focus on test scores incentivises "teaching to tests" and strategic behaviour and could lead to negligence of non-cognitive skill formation."
While pointing to possible grade inflation, the OECD does not conclude that British schools are 'failing'. They report that: "average PISA tests scores, measuring cognitive skills of 15–year olds, for the United Kingdom are close to the OECD average… [but] they trail strong performers such as Finland and the Netherlands in achievements.
Average performance among 10–year olds, as measured by PIRLS and TIMSS scores is however relatively strong in an OECD perspective." The table below compares the UK with the OECD.

The Mail goes on to report that: "Most damagingly, the report concludes that despite Labour's doubling of spending on education since 2000, children's success remains 'strongly related to parents' income and background'… 'Incomes and educational outcomes are unevenly distributed in the United Kingdom compared to many other OECD countries, and intergenerational social mobility is low'.
This leaves many students from weaker socio–economic backgrounds with insufficient levels of competence, which hampers their chances in the labour market and higher education.'"
These points are a strong focus of the OECD report, which concludes that much more focus is needed on pre-schooling, especially for disadvantaged groups. It states: "The unequal educational outcomes partly reflect a complex, multi–layered and poorly functioning deprivation funding system for primary and secondary schools in England.
The implicit compensation for disadvantaged students that the government provides to local authorities is only partially spent on disadvantaged schools and students."
The report looks in particular at the Sure Start programme introduced by Labour, where they record that the enrolment rate reached almost 95% in 2008, which is significantly higher than the OECD average of 72%.
It concludes: "There is mixed evidence on the effects of the expansion of pre–schooling in England. In general, disadvantaged children stand to gain significantly from pre–school participation. Evidence of effects on non–disadvantaged children is mixed, although some health and behavioural benefits seem to have arisen from the Sure Start programme." OECD, 2011. Importantly, they argue that full analysis of the result of pre-schooling policies can only be fully understood when those children who have been impacted by these policies have moved through the educational system and into the labour market.
Other points covered by the Daily Mail, and reflected in the OECD findings, was concerned with the quality and complexity of vocational programmes for 16 to 18 year olds, and the reports support for government reforms to being in 'free schools' and school choice for parents.
The Spectator takes a similar line to the Daily Mail in its reporting. They highlight the OECD findings that increased spending has resulted in limited improvements in schooling outcomes as well as grade inflation. They say: "This is rather a staggering indictment of Tony Blair's "education, education, education" policy"
The article goes on to say that: "As well as agreeing with Michael Gove on the problems, the OECD also backs his solutions: "Increasing user choice would … induce stronger competition between schools which could provide better educational outcomes", and "entry of new schools should be encouraged even if it, temporarily, creates some excess capacity."
While this is an accurate portrayal of the report, with the OECD welcoming the potential benefits of the current reforms, they do at the same time raise a number of concerns.
On disadvantaged students, the OECD suggests: "By moving to a less complex system and introducing an explicit pupil premium, the government has started to address these problems. The premium is, however, relatively low in an international perspective and it is not clear that it will cover the extra costs of admitting disadvantaged students." They argue that the incentive must be big enough that school take in disadvantaged students. Improving user choice, they say, would be one way to do this.
Similarly, while welcoming choice, the report argues that: "User choice remains relatively limited for students from disadvantaged backgrounds, as admission criteria by residence limit choice geographically. Although user choice reforms can have positive effects, they could potentially lead to increased segregation. The government should therefore experiment with proscribing the use of residence criteria in admission to local government maintained schools in some local authorities and evaluate the effects carefully."
Concerns are also express: "Disadvantaged families living in areas where maintained schools are low–performing currently have limited user choice, especially as supply is inflexible and popular schools are oversubscribed, and may not be affected by reforms.
There is a risk that current proposals for academies and Free Schools may actually increase the correlation between socio–economic background and the quality of school resources."
Conclusions:
Overall the Daily Mail and the Spectator have been accurate in their reporting of the OECD report into the state of education in the UK. They both correctly focus on concerns about grade inflation and the reports welcoming of 'free schools' and school choice for parents.
However, both papers have also not reported on the fact that overall British children are achieving school levels similar to the OECD average. Further, while the Daily Mail highlights the issue of disadvantaged children not getting the support they need, they do not cover the concerns the OECD voices over how government reforms may not tackle this adequately.
Such omissions do not have significant implications for either article, but they are nevertheless important points worth keeping in mind.