"There are more people travelling by train than at any time since the 1920s"
Theresa Villiers, Transport Minister, Today Programme 16 August 2011
Today's inflation figures mean that when rail fares rise next January, ticket prices could go up by an average of 8 per cent.
Will such rises send passengers off the rails? Not according to Transport Minister Theresa Villiers who insisted that unpalatable as the hikes may be, the numbers using rail travel were still high in historical terms.
According to Ms Villiers, more journeys are being made by rail than at any time since the 1920s – but does the claim pass the Full Fact test?
Analysis
Though we have yet to hear back from the Department of Transport as to the source of the claim, the Association of Train Operating Companies (ATOC) have produced some figures that suggest Ms Villiers is correct.
The graph below shows the number of rail journeys going back to 1900.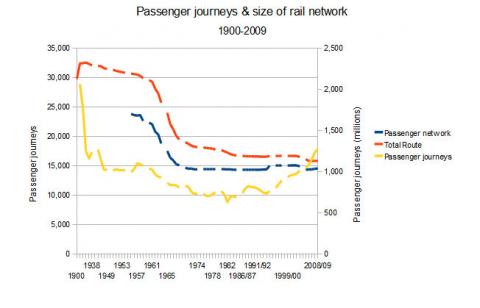 There are a couple of caveats to the data however. Firstly there is not a complete set of figures going all the way back to the 1920s as shown by the numerous gaps in the lines. These gaps cover some significant amounts of time, such as the Second World War years.
The spreadsheet produced by ATOC also shows that there are a couple of points where there are also changes in the way the data was recorded to contend with.
Likewise, though the data shows that more journeys were being made in 2008/09 than in the 1920s, this doesn't necessarily show we are all travelling more by train then in the inter-war years.
After all the population of Great Britain, was a little shy of 45 million back then compared to about 61 million at the end of the period in question.
But while the population may be growing the amount of track on which they can make train journey's has shrunk significantly as shown on the graph above, both in terms of overall rail network and rail network available for passenger travel.
Of course to get a full picture of how rail capacity has changed to accommodate the number of passenger journeys, we would need a measure of overcrowding on the trains.
The DfT does publish a measure of overcrowding on London commuter trains, but not for train journeys at a national level.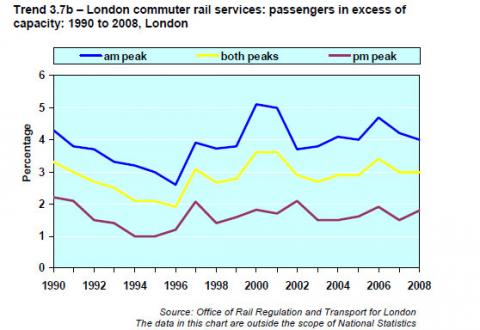 Perhaps surprisingly, the trend of percentage of passengers in excess capacity of trains has not been one of steady increase since 1990.
Conclusion
As far as can be deduced from the data the claim checks out. There are of course the problems of an incomplete dataset, and potential problems with the comparability of the figures of the entire time frame.
Despite these limitations the graph at the very least does not challenge the claim.