Lord Falconer: "[Labour] reduced reoffending rates."
Nick Herbert: "No you didn't, I'm afraid reoffending rates soared."
Newsnight, 6 September 2011
As MPs debated the causes of this summer's riots in England yesterday at a Home Affairs select committee, Justice Secretary Ken Clarke turned a few heads by blaming the disorder on a "feral underclass" of society.
On Newsnight yesterday evening, the debate turned to the role of the criminal justice system in rehabilitating offenders.
Labour's Lord Falconer, the inaugural Justice Secretary, argued that his party had overseen a reduction in reoffending rates, a claim that was disputed by the current Policing and Criminal Justice Minister Nick Herbert. So what how has recidivism changed since 1997?
This is impossible to tell. Because of significant changes in the way reconvictions are recorded made in 2000, no trend analysis is possible that stretches back prior to the turn of the century.
However if we limit our analysis to the years since then, the data appears to support Lord Falconer.
The Ministry of Justice records reoffending in annual cohorts, looking at reconviction of offenders within one year of release from prison in the first quarter of the cohort year.
For adults, the reoffending frequency rate (the number reconvictions per 100 individuals released from custody) has fallen from 185.0 to 140.5 between 2000 and 2009 (the most recent year for which data is available) – a drop of 24 per cent.
When looked at proportionally the trend is also downwards. As the MoJ reports: "Since 2000 the proportion of offenders who were re-convicted has fallen from 43.0 per cent to 39.3 per cent – a fall of 3.7 percentage points."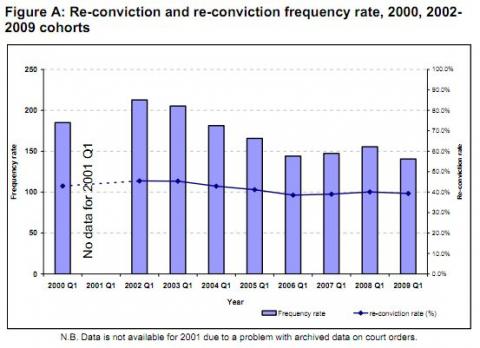 Reoffending among juveniles has also seen similar reductions over the same period, falling 27 per cent in terms of the frequency rate, and 3.3 percentage points down proportionally.
There have been year-on-year rises within this period, and reconvictions for the most serious offences has risen over the entire period from 0.76 to 0.88 convictions per hundred offenders. Similarly, as the number in each cohort has risen over the past decade, the raw number of reconvictions has also gone up.
However when talking about the overall 'reoffending rate', it is clear that it has fallen.
Conclusion
As the Ministry of Justice itself concedes "measuring true reoffending is difficult" and different ways of measuring it can produce different results.
Using the most relevant official data however suggests that Lord Falconer is closer to the truth. While we can't know the picture since 1997, the period 2000-2009 has seen reductions in both of the main measures of reoffending, both for adults and juveniles.