"Spending on working age welfare rocketed by 50 per cent before the recession", Ian Duncan Smith, Speech to the Conservative Conference, 3 September 2011
"Spending on working age welfare rocketed by 50 per cent in real terms under Labour before the recession", Transcript of Ian Duncan Smith's speech, Conservative Party Website
As Work and Pensions Secretary Iain Duncan Smith took to the stage at the Conservative Party conference yesterday, there was some confusion about the trends he described in working age welfare payments under Labour. Has there been a 50 per cent increase in spending in real terms, as the widely-circulated transcript to Iain Duncan Smith's speech claimed? Or just in nominal terms, as the Secretary of State actually told delegates? Are either of these claims be supported by the facts?
Analysis
Almost a year ago to the day, Full Fact looked into a very similar claim from the Chancellor George Osborne, who told the Commons that: "Benefit bills have soared by 45 per cent under the previous government."
Similarly at the time of last year's emergency Budget in June, Mr Osborne stated that "total welfare spending has increased from £132 billion ten years ago to £192 billion today. That represents a real terms increase of a staggering 45 per cent."
However Mr Duncan Smith's claim yesterday shifts the goal posts slightly by limiting the analysis to simply "working age" benefits and the time frame to "before the recession". Keen to get to the bottom of this new angle on welfare trends under Labour, Full Fact got in touch with the Conservative Party and the Department for Work and Pensions to get the source for the claim.
Unfortunately neither have yet been able to tell us what this is. However, the DWP were able to clear up one source of confusion: the rise Mr Duncan Smith described was in nominal (non inflation-adjusted) terms, rather than in real terms, as the original transcript of his speech released to the media claimed.
Nonetheless, as of 4th October, the real terms increase claim was still displayed in the speech transcript on the Conservative Party website. On top of this, the claim was
repeated in an article by the Guardian
, illustrating the ease with which an unsupported and disowned claim can slip into the public consciousness.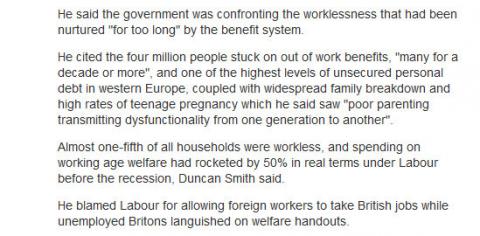 In the absence of a source from the DWP or the Conservatives, Full Fact set out on its own investigation. This led us to
The Public Expenditure Statistical Analyses (PESA) 2010
. On page 60 we found a table which gave us a figure for total expenditure on "social protection" in 1997/98 and 2007/08. However, there was no breakdown into working age and non-working age expenditure. A later table, on page 70, might have been able to act as a basis for such a breakdown, but there were no figures for 1997/98.
We attempted to find such a breakdown in an earlier PESA report only to find out that "data in previous PESA editions may not be fully consistent with the latest releases due to changes in data coverage and classification changes". This indeed turned out to be the case as the figure quoted in the
PESA 2000/01
report for 1997/98 expenditure on "social security" is considerably different from the figure reported in PESA 2010 for "social protection" in the same year.
Where then did Ian Duncan Smith get his figures? The figures on total expenditure on social protection from the PESA 2010 report that we mentioned before, do provide some limited support for his claim. These show that in 1997/98 spending on social protection was £114.5 billion, while in 2007/08 it had increased to 187.5 billion, a 64 per cent increase in nominal terms. This translates to a 29 per cent increase in spending in real terms.
It is also interesting to note that page 62 has a table showing how expenditure on social protection has changed as a per cent of GDP in the same time period. It actually decreased from 13.6 per cent in 1997/98 to 13.2 per cent in 2007/08.
Unable to find specifically working age welfare expenditure figures in the PESA report, Full Fact tried instead the
DWP statistics
, which document changes in benefit expenditure administered by the Department since 1948.
This does show the change in expenditure by the DWP on working age welfare, however, it is also clear that these figures do not represent the total expenditure on working age welfare. This is because the DWP is not the only department which provides benefits for this group.
This is fortunate for Iain Duncan Smith, as these DWP figures show a decrease in real terms spending on working age welfare and an increase of only 19 per cent in nominal terms. However this is at least partly accounted for by the introduction and expansion of certain tax credits, which took on some of the benefits caseload. The amount spent in 1997/98 on working age welfare through tax credits was pretty negligible (given the overall amount spent). However, by 2007/08, expenditure on WTC had increased to £12.6 billion.
By combining this amount with the DWP figures, we get an increase in working age welfare expenditure from £33.4 billion in 1997/98 to £52.4 billion in 2007/08. This is a 57 per cent increase in nominal terms.
This calculation then, provides some support for Iain Duncan Smith's claim. It is far from conclusive, however, not being based on a particularly in-depth analysis. For example, we were unable to isolate the source of all of the non-DWP expenditure on social protection to get to the £187.5 billion figure in the PESA 2010 report. Some of this unaccounted amount (about £28 billion) may well be related to working age welfare.
Conclusion
Full Fact has been unable so far to track down a definitive source for Ian Duncan Smith's claims on working age welfare expenditure. Our best estimates indicate some support for the claim of a 50 per cent increase in nominal terms. 
However, we can confirm that the claim should be understood in nominal terms, rather than the real terms rise first suggested in early versions of the speech. While this was not what the Conservative conference was told, it remains uncorrected on the party website and has already led to certain media outlets putting out the erroneous version. It is also well worth considering whether the use of nominal terms is itself the best measure of a growing welfare bill, given that a real terms comparison accounts for changes in the wider economy. 
We hope that the DWP or Conservative party will soon provide us with a source for the claim, and we'll update as soon as we have more information.