"Since the beginning of this year, there's been a 60 per cent rise in youth long-term unemployment." Ed Balls, Today programme, 21 November 2011
Youth unemployment last week breached the one million mark for the first time since 1992, when the Office for National Statistics (then the Central Statistical Office) first started recording it.
Today Shadow Chancellor Ed Balls suggested that the problem might be more long-standing, telling the BBC's Today programme that the number of long-term unemployed young people had shot up by 60 per cent since the beginning of the year.
So is this accurate?
Analysis
Full Fact got in touch with Mr Balls' team, who pointed us towards Office for National Statistics data on the claimant count by age and duration.
The first thing to note is that the claimant count is not quite the same as the number unemployed. The claimant count refers to the number claiming Jobseekers Allowance (JSA), and therefore does not capture those young people out of work who may not be claiming benefits for whatever reason.
However the claimant count is of course one indicator used to measure the level of unemployment, so if we accept this as a proxy Mr Balls' claim adds up.
In January, 73,100 people aged 18-24 had claimed JSA for at least six months, which had risen to 133,800 by October. This in fact represents a much larger increase than the one identified by the Shadow Chancellor, growing some 83 per cent.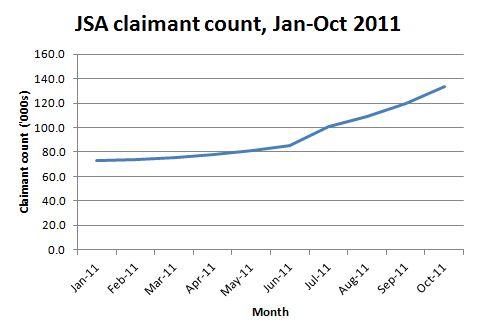 Quarterly unemployment data gathered under the International Labour Organisation's definition of youth unemployment is only available to September, but this shows a more modest rise. At the end of last year the number of 18-24 year olds classed as unemployed for more than six months stood at 350,000, while this had risen by 8.3 per cent to 379,000 for the period July-September 2011.
There is however another caveat. "Long-term unemployment" is by no means a fixed concept, and can be defined in different ways. Some organisations – the OECD among them – have defined long-term unemployment as the number out-of-work for a year or more.
If the analysis is limited in this ay the rise is also slightly less pronounced. In January 20,100 18-24 year olds were claiming JSA, while 30,000 did likewise in October. This represents an increase of just under 50 per cent.
Conclusion
Ed Balls' claim is accurate within its own particular frame of reference, although its does rely on specific definitions of both 'long-term' and 'unemployment'.
While it is of course difficult to fully set out these distinctions within the confines of a radio interview, it is worth noting that there are other ways of looking at the issue of long-term youth unemployment, which give varying portrayals of the rise over the past year.