"Now kettles face EU ban" according to the front page of today's Express.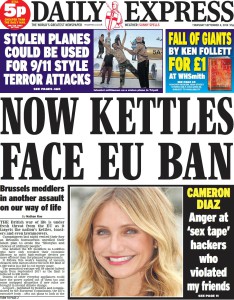 The article itself was more equivocal, saying the EU executive had commissioned a report which "sets out plans to look at the energy usage of a range of items and whether they could be made more efficient".
That's correct - the EU is investigating the energy consumption of various products, and its research might well form the basis of future regulations aimed at improving their impact on the environment.
Limits to the power that can be consumed by vacuum cleaners are the most high profile example of the EU's activity in this area, but the (entirely hypothetical) regulations to kettles won't necessarily take this form.
For example, another option in the case of electric kettles would be to require them to be more durable so that they last longer on average, and fewer need to be manufactured.
There's more detail on this in our factcheck from Monday.
We need facts more than ever.
Right now, it's difficult to know what or who to trust. Misinformation is spreading. Politics and the media are being pushed to the limit by advancements in technology and uncertainty about the future. We need facts more than ever.
This is where you come in. Your donation is vital for our small, independent team to keep going, at the time when it's needed most. With your help, we can keep factchecking and demanding better from our politicians and public figures. We can give more people the tools to decide for themselves what to believe. We can intervene more effectively where false claims cause most harm.
Become a donor today and stand up for better public debate, on all sides, across the UK.
---