Ahead of this summer's Olympic games, London Mayor Boris Johnson has been causing a stir with some high-profile appearances in New York.
One date in his media diary was with a journalist on the New York Magazine, which made waves on this side of the Atlantic after Mr Johnson confided that "I want to assume supreme power in England" (tongue possibly in cheek).
While it didn't generate as many headlines, the interview was also notable for another claim made by the London Mayor, this time on the subject of obesity. According to Mr Johnson:
"Obesity is a new problem. It's a problem of affluence and acrasia, moral weakness. You know, it's associated with debt—there's a strong connection between the fattest societies and the most indebted societies… I'm not sure if that's totally true, actually, but there's an argument in there somewhere."
So is Mr Johnson right to think twice about drawing this link between the indebtedness of a society and the proportion of the population that is overweight?
The question is a hard one to answer, and can be looked at through a number of different prisms.
The OECD does hold some data on both household debt levels (measured as a proportion of disposable income) and the proportion of the population that is overweight.
Unfortunately, household debt data are only available for the G7 nations, which makes any look at the correlation between debt and obesity difficult to sustain: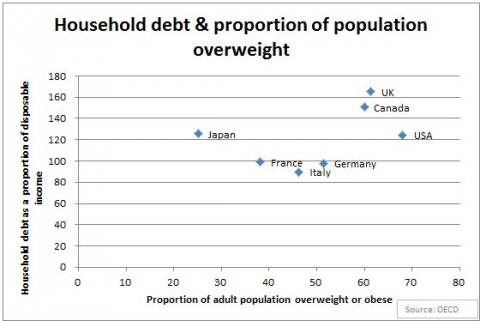 While what limited figures there are might suggest a loose association between these two factors, more data from a greater number of countries is needed before we can draw any firm conclusions. With such a limited sample it is also difficult to analyse the impact of any other societal factors that might be in play here.
A lot of work has been done on a possible link between wealth more generally and obesity, but as it stands Boris Johnson's association with levels of personal debt is harder to pin down.
Tags: Boris Johnson, Debt, Obesity