Volunteers needed for AI research
Closing date: 23 Jul 2018
Location: in the office
Apply to: jobs@fullfact.org
We are now looking for 10 volunteers to help our automated factchecking team sort through and analyse data on a special project for 2 weeks.
The project
Part of our team's work is to research how machine learning and artificial intelligence can improve the work we do.
We are building models that can detect claims automatically, match similar claims and cluster groups of claims together.
We do this through careful collaboration with other expert factcheckers, and with help from hundreds of volunteers who collect and sort the data. This is where you come in.
Who you are
You don't need to have any particular type of experience, you just need to care about halting the spread of misinformation, and to have some analysis skills. This is a repetitive job going through a lot of data so you also need to find some motivation!
Details
A group of you will be joining us in the office for 2 weeks, starting Monday 30th of July till Friday 10th August.
Our office is based near Piccadilly: 2 Carlton Gardens, London, SW1Y 5AA. Our days run from 9am to 6pm.

We will reimburse you for any expenses for travel from zones 1-4 and lunch up to £5 a day.
Impartiality safeguards
We have safeguards at every level of the organisation to ensure impartiality, from a cross party board of trustees to restrictions on the political activity of staff. If you were to join us as a volunteer you would need to fill in a declaration of personal interests.
How to apply
Please send a short covering letter (200 words max) and CV to jobs@fullfact.org with the subject line AI Research Volunteer.
Trustees
Full Fact is looking for new trustees to join our senior cross- and non-party Board of Trustees as we lead Full Fact's next stage of development.
It's an exciting time to join Full Fact. We have a strong track record and reputation; a growing team (from 11 to 20 in the past year) and an experienced management team.
It is vital that Full Fact's board overall reflects the diversity of views and experiences in modern political debate. Individual trustees may be, but are not expected to be, politically impartial and we welcome expressions of interest from anyone who shares our commitment to promoting high quality public debate.
This advert was posted on 1 June. There is no fixed deadline for expressing interest.
Our standards and neutrality
Full Fact's work must be independent, impartial, rigorous and balanced. It's essential that we have clear rules in place to ensure that, and they entail some requirements for members of our team while you work here.
You will be required to operate within our standards, including the Nolan Principles of conduct in public life, our rules on conflicts of interest and so on.
You will be have to complete a declaration of personal interests form in the later stages of recruitment, once a year while you work here, and whenever your circumstances change. This is to help us ensure that any potential or potentially perceived conflicts of interest are managed and mitigated so that they do not affect either Full Fact's or your own work and reputation.
Although anybody is entitled to be a non-active member of a political party or other organisation within the law, if you come to work here you won't be able to:
Say publicly how you vote or express support for any political party
Express a view for or against any policy that's currently a topic of political debate
We do encourage people to contribute to public life in ways that are compatible with our non-partisan role — where possible within our resources, we support people to do voluntary work such as jury service, magistracy, reserve forces and so on.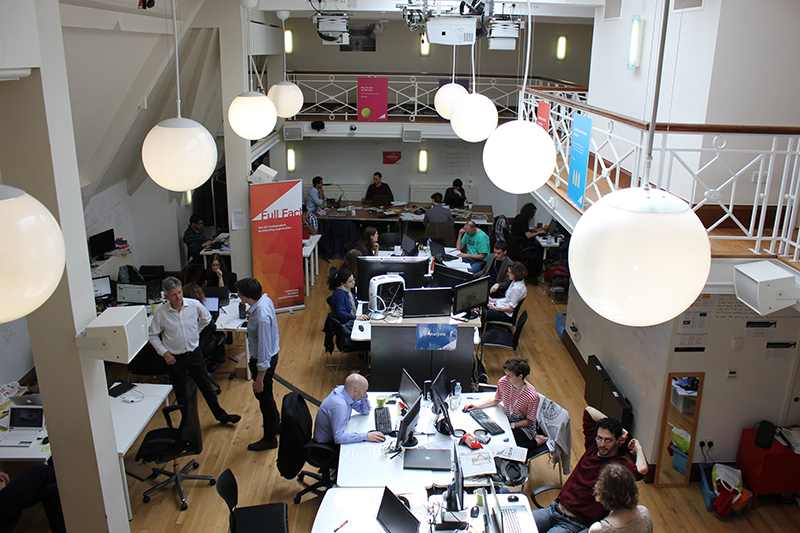 Secondments
Full Fact offers three month secondments in the research and publishing team for Fast Stream Assistant Statisticians from the Government Statistical Service who are interested in improving the communication and public understanding of statistics.
Secondees are exposed to a wide range of research and publishing tasks that build on their own interests and development ambitions. Opportunities are advertised periodically through the National Statistician's Office. You are welcome to contact Mike Hughes to find out more: mike.hughes@fullfact.org.
We would be happy to extend this scheme to other relevant organisations. Please email our Director, Will Moy, to find out more: william.moy@fullfact.org.