Are more married men than women suffering from domestic abuse?
15 April 2013
"More married men (2.3 per cent) suffered from partner abuse last year than married women, according to the latest British Crime Survey." The Independent on Sunday, 14 April 2013
This weekend the Independent on Sunday tells the story of Kieron, 37 from Norfolk. He was abused by his wife for three years before he finally mustered the courage to report the crime to the police. The tipping point arrived when he had to undergo heart surgery after she stabbed him in the chest. 
In recent years the Crime Survey for England and Wales, has revealed that Kieron is just one of many men abused by their partners. 
Often it is women who are thought of as the primary victims of partner abuse and indeed the survey shows that an estimated 1.2 million women experienced domestic abuse in the last year, compared to 800,000 men.
However this year the Crime Survey for England and Wales has shed light on some interesting figures relating to male victims, which prompted the Independent on Sunday to report on their plight. One of the most striking claims made in the article is that in the last year more married men than married women suffered from partner abuse. 
Is this true? 
In short, yes. 
If we consider the proportion of married respondents in the Crime Survey  (see Table 4.08) who reported being abused by their partner in their last year, we'll find a higher percentage of men (2.3%) than women (1.8%). However, when we look at people who are either single, or separated, divorced, or cohabiting, we'll consistently find a higher percentage of female victims. 
Prevalence of partner abuse by gender and marital status
 | 
Create infographics
It's important to bear in mind how the Crime Survey defines partner abuse: it is any type of "physical force, emotional or financial abuse or threats to hurt the respondent or someone close to them carried out by a current or former partner."
There is however a second category - Domestic or intimate violence - which is more broadly defined as "emotional, financial and physical abuse by partners or family members, as well as sexual assaults and stalking by any person." Once again, focusing on this broader category, we'll find that women are more likely than men to be victims, as the graph below shows.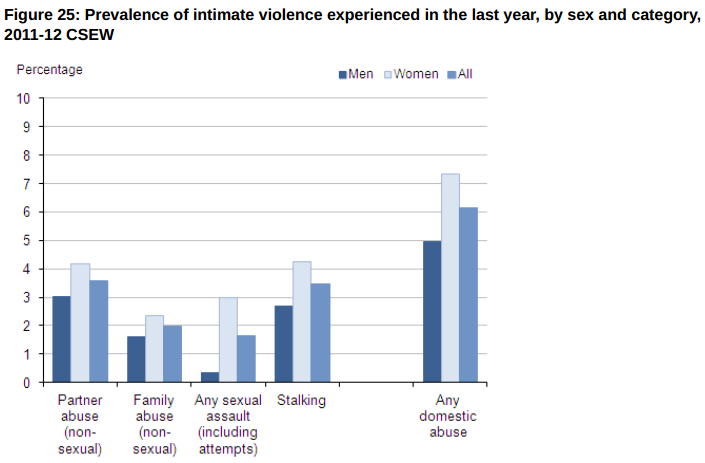 More women going to jail for domestic abuse
At the same time, two Parliamentary questions - one addressed to the former Solicitor General Vera Baird and the other one to the former Prisons Minister Crispin Blunt - showed that the number of women convicted of perpetrating domestic abuse has more than quadrupled in the six years from 806 in 2004/05 to 3,965 in 2010/11.
The problem may in fact be more widespread than these figures suggest. The 2010/11 British Crime Survey (page 88) has revealed that twice as many male victims (28%) than female victims (13%) do not tell anyone about the domestic abuse they are suffering, highlighting the level of under-reporting. Furthermore, only 10% of male victims contact the police compared to 29% of female victims.
Conclusion
It's true that more married men than women experience partner abuse, but with that one exception when we look at the larger picture women are still the number one victim across all different kinds of abuse, regardless of age, ethnicity, marital status, and occupational and educational background (at least in terms of how the victims self report).
---
Flickr image courtesy of Floyd Brown