"Our jails contain inmates from 156 countries — more than three out of every four nations in the world."
Daily Mail, 19 September 2012
New Justice Secretary Chris Grayling marked a departure from the policies of his predecessor Ken Clarke as he took questions from MPs for the first time in his new role.
The Daily Mail focussed in particular on Mr Grayling's pledge to resist pressure to drive down inmate numbers, telling the Commons:
"The only changes I want to see to the prison population will come through returning more foreign national prisoners to their countries of origin."
According to the paper, three quarters of the world's nationalities are represented in our prison cells. And as the map below shows, this is indeed true:
The data is drawn from a parliamentary answer given by former Prisons Minister Crispin Blunt, which itself was taken from his Department's Offender Management Statistics Quarterly Bulletin.
This actually shows that 159 nationalities were recorded for prisoners serving terms in jails across England and Wales at the turn of the year - three more than the Mail mentions. Although controversial, it is usually understood that there are 196 countries in the world, meaning that 81% have inmates behind bars in England and Wales.
However we do need to be a little cautious. 20 of these countries only have one national serving in an English or Welsh prison, while 52 nationalities - nearly a third of the total - are represented by 5 or fewer inmates. This means that the figure could change dramatically if relatively few prisoners were to complete their sentences.
Jamaica is the overseas country to have the most prisoners at 885, followed by Poland (762) and the Republic of Ireland (731).
Are the numbers of foreign prisoners rising?
The Mail goes on to say that:
"The total number of foreign prisoners has risen despite pledges by David Cameron to fix the problem."
Again, it isn't difficult to find the numbers behind the claim, as they are taken from the same offender management bulletin as the first claim.
If we look at the most recent year's data, we can see that the number of foreign nationals locked up in England and Wales rose slightly from 10,779 to 11,127. As a proportion of the total number of prisoners, foreign nationals accounted for 12.9% in 2011 and 13% a year later.
However this doesn't mean that David Cameron has presided over a rise in the number of foreign prisoners housed in this country. If we compare the most recent figures to the situation he inherited in 2010, we can see that there are slightly fewer foreigners incarcerated here (11,135 in 2010 compared to 11,127 in 2012, or 13.6% in 2010 compared to 13% now).
Whether or not the Prime Minister's is responsible for this however is moot, as the figures have been in decline since 2007 or 2008, depending upon whether foreign prisoners are counted or measured as a proportion of the prison population: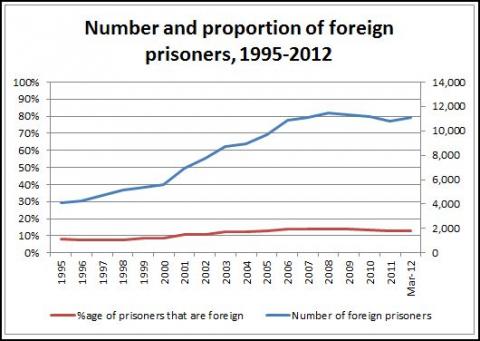 However to get the full picture on the Government's activity in this area we would also need to know how many prisoners were being repatriated. Currently the data available on this is rather spartan, however we are in the process of requesting fuller figures.
Conclusion
The Mail is right with both of its claims about the number of foreign prisoners housed in England and Wales, although a closer look at the data proves revealing.
While over three quarters of the world's countries represented among inmates in our jails, nearly a third of these have five prisoners or fewer locked up, meaning that the headline figure could prove volatile.
Similarly, while there was a slight rise in 2012 in the number of foreign nationals under lock and key, the trend since 2008 has seen this number fall (although it rose sharply in the earlier part of the last decade). Whether the Prime Minister is therefore failing in his pledge to "fix the problem" is a matter for interpretation.
With Brexit fast approaching, reliable information is crucial.
If you're here, you probably care about honesty. You'd like to see our politicians get their facts straight, back up what they say with evidence, and correct their mistakes. You know that reliable information matters.
There isn't long to go until our scheduled departure from the EU and the House of Commons is divided. We need someone exactly like you to help us call out those who mislead the public—whatever their office, party, or stance on Brexit.
Will you take a stand for honesty in politics?
---