In brief
Claim
Taxpayers faced a bill of more than £140 million last year for criminals from other EU countries in British jails.
Conclusion
This is based on the average yearly cost per prisoner in England and Wales, and the number of prisoners from other EU countries in prison in England and Wales at the end of December 2017. The estimate is very rough and spending on prisoners can vary depending on the prison they're in.
There were more than 4,000 foreign criminals from other EU countries locked up in British jails last year.
This is how many prisoners in England and Wales at the end of 2017 were citizens of other EU countries.
Claim 1 of 2
"TAXPAYERS faced a bill of more than £140million to keep more than 4,000 foreign criminals from other EU countries locked up in British jails last year, figures revealed today."

Daily Express, 12 April 2017
At the end of 2017 there were just over 4,000 EU nationals in prisons in England and Wales. That's around 5% of the overall prison population—the same proportion as for the last five years. The total number of EU prisoners dropped by around 100 in 2017 compared to the year before.
EU nationals made up 43% of foreign national prisoners in England and Wales in December 2017—up from 38% in 2013.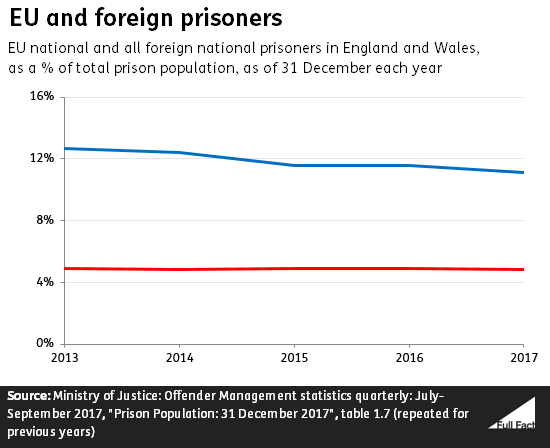 Among the EU prison population, the most common nationalities in December 2017 were Polish (821), Irish (725), Romanian (663), and Lithuanian (412).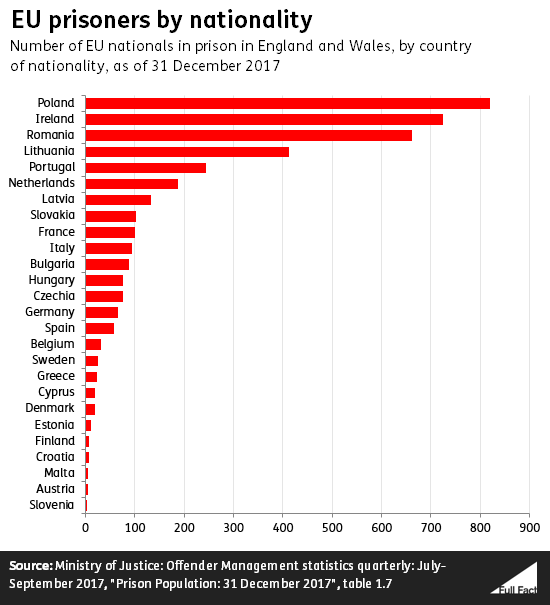 We're looking at publicly available data from the Ministry of Justice (MoJ). The Daily Express' data comes from an MoJ response to a Freedom of Information Request it submitted, which we have not seen. As a result the exact figures may differ slightly.
The prison population includes those serving sentences (87% of all prisoners, of all nationalities), those on remand awaiting the start or continuation of trial or a final sentencing (11%), and those held for civil offences and immigration detainees (1%).
£140 million isn't an exact estimate
The Daily Express' cost estimate seems to be based on multiplying the number of EU prisoners by the average cost per prisoner in 2016/17.  We've asked the Daily Express for more information about this.
The Ministry of Justice told us that these are only an average, and costs per prisoner can vary across different prisons.  Things like the type of prison, its security level and the mix of prisoners it holds can all have an impact on the cost. The MoJ told us it only provides averages for the cost of prisoners across the whole prison system.
The average cost used by the Express also covers both public sector and private sector prisons, but the MoJ says that "public sector & private sector costs are not directly comparable because of differences in accounting treatment and scope of services".
The average also includes spending at the national and regional level, not just spending at individual prisons.
We've asked the MoJ for more information about costs per prisoner.
Can you help protect this election from the influence of bad information? Support Full Fact
This election, clear, accurate facts won't always be a guarantee. False and harmful claims are spread every day by our public figures and media. Intentional or not, they have the power to shape the choices we make. We all deserve better than that.
That's why we're fighting to keep this election more honest and accountable. And we can't do it without you. In a fast-paced campaign, our supporters mean we can hold all candidates to the same three principles: get your facts right, back them up with evidence, and correct your mistakes.
Just a small monthly donation keeps us scrutinising the most harmful false claims around the clock, and challenging the people who make them.
If you, like us, don't want your vote to be influenced by bad information, can you help out?
---