How long do murderers serve in prison?
10 January 2020
Every year around 300 people in England and Wales are given a life sentence for murder. About 5,300 people are currently serving a prison sentence for the same. And around 300 people annually are released having served the prison part of their sentence.
On average, those who are released will have served about 16.5 years in jail, with a life on licence with the probation service to follow, unless they are recalled to prison.
Honesty in public debate matters
You can help us take action – and get our regular free email
Life means life – but not always life in prison
People who are found guilty of murder in England and Wales have to be given a 'mandatory life sentence'. It's called 'custody for life' for those aged 18-21 and 'detention during Her Majesty's pleasure' for people under 18.
But apart from the most serious cases, that doesn't mean life in prison.
Instead, most people have to serve a minimum term in prison, which is determined by the judge in court after they're found guilty.
Once that term is over they can be considered for release on parole, if the Parole Board decides that it is safe to release an offender back into the community.
If the circumstances are serious enough, a 'whole life order' is imposed by a judge, meaning that the offender will never be released from prison and cannot be considered for parole. At the moment there are 63 prisoners serving whole life sentences in prison.
If murderers are released, they still have to serve their sentence 'on licence' for the rest of their lives. This means they are placed under the supervision of probation officers and must stick to certain conditions for good behaviour. In practice that means potential restrictions on travel, residence and employment—these vary depending on the case.
If they breach the terms of their licence, they will be sent back to prison.
Sentences vary a lot depending on the circumstances
When a judge sentences someone for murder, he or she has to go through a process outlined in the Criminal Justice Act 2003:
Choose the 'starting point' for a minimum term in prison, based on the severity of case before the court. This has to be 12 years for anyone aged 17 or under, and can be 15, 25 or 30 years for adults, or a whole life order for adults aged 21 or over.
Consider whether the circumstances specific to the case mean the minimum term should be longer or shorter than this starting point – what are called 'aggravating' and 'mitigating' factors.
Take into account other factors such as any previous convictions, any crimes committed while the person was on bail, and if they pleaded guiltyto the murder.
Whole life orders are reserved for the most serious cases such as abducting and murdering a child or killing for a "political, religious, racial or ideological cause". Since 2015, the murder of a police or prison officer in the course of his or her duty must carry a whole life order as a starting point.
Since judges are able to consider the circumstances specific to the case, there's a wide variety of possible sentences. Some murderers have been known to be given under 10 years in prison when exceptional mitigating factors are taken into account.
An example is a case from several years ago, when someone was released after just over three years and seven months. The Ministry of Justice pointed out at the time that this was because of special circumstances: "Although the offender pleaded guilty and was convicted of murder, it might be described as an assisted suicide and was dealt with apparently sympathetically by the sentencing judge."
The actual time people spend in prison also depends on if and when they're approved for release by the Parole Board.
Most murderers released from prison have served between 11 and 18 years
The average amount of time people released from prison for murder have served is about 16.5 years.
According to a Freedom of Information request we sent, answered by the Ministry of Justice, about 10% of prisoners released between 2010 and 2018 having served time for murder had served under 10 years, and about 10% had served more than 24 years.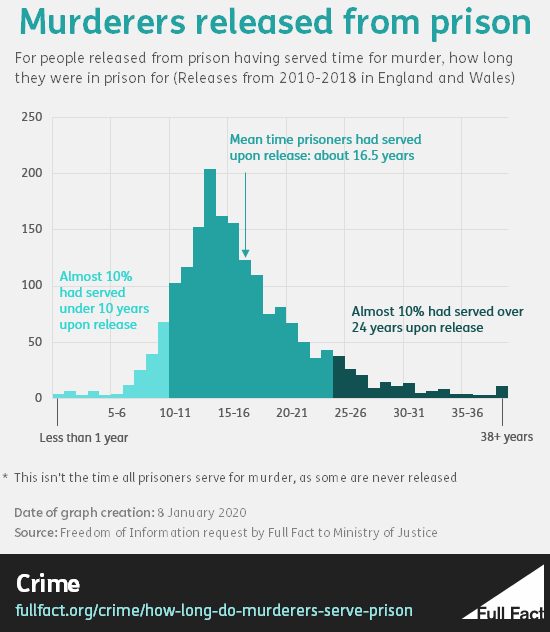 Some do murder again
There are cases of people on a life licence for murder who have murdered again.
Between January 2007 and May 2015, 12 people were murdered by people who had previously been convicted of murder, according to the Ministry of Justice. Those murders were carried out by 11 separate offenders as one was responsible for two murders.
If anyone is convicted of a second murder while on life licence for an earlier one, they can never be released from prison again.