How many female prisoners have been victims of abuse?
15 October 2013
"More than 50% of women who enter jail have been physically, sexually or emotionally abused. Those are statistics quoted by everybody." Vicky Pryce, BBC Today Programme, 14 October 2013 (07:18 am)
During her two month stay at Holloway prison and East Sutton Park prison - where she served a sentence for accepting speeding points on behalf of her ex-husband Chris Huhne - the economist Vicky Pryce wrote a book on the economics of prison called Prisonomics.
When presenting the book on the Today programme yesterday morning, Dr Pryce made the argument that physical, sexual and emotional abuse is a crucial factor behind women ending up in prison. 
Dr Pryce did not cite a source for her claim on abused female prisoners - and it may be that this claim will receive more extensive attention in her book - however a number of studies have offered similar statistics.
The government-commissioned survey of prisoners' childhood and family backgrounds found that 53% of female prisoners reported having experienced some sort of abuse, compared to 27% of men. The question here, however, specifically relates to abuse experienced as a child, not as an adult. The report, published in 2012, examines the childhood, family background, family relationships, of 1,435 prisoners sentenced between 2005 and 2006 and a longer-term prisoner sample of 2,414 prisoners sentenced to between 18 months and four years. 
A 2009 Cabinet Office short study on women offenders also found that nearly 50% of women offenders had been victims of domestic violence. This was based on analysis of the Offender Assessment System, a form of risk assessment and management used by correctional facilities in England which analyses an offender's criminal history and assesses how likely they are to be reconvicted, and the risk of harm to themselves and others.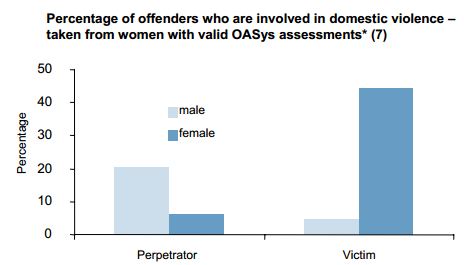 Finally, there's the 2007 Corston Report, a review of women with particular vulnerabilities in the criminal justice system. The report cites a statistic: 46% of female offenders in prison have been identified as having suffered a history of domestic abuse. The report did not give a source for the statistic and it's not entirely clear in whether it was obtained during the research on the report, or whether it originated in a separate study.
Though Dr Pryce did not cite a specific study in support of her statistic, credible research exists to support her claim. 
---
Flickr image courtesy of the United Nations