How many of those convicted of knife crime go to prison?
2 May 2014
This article has been updated. 
"Currently, around four out of five of those convicted of a knife crime do not go to prison. Incredibly, forty per cent of criminals with at least three previous convictions are given soft sentences, such as fines, cautions, community punishments or suspended jail terms."

Daily Mail, 2 May 2014.
The Daily Mail front page today claimed that leaked Cabinet Office papers had revealed plans for a "crackdown to prevent knife-wielding thugs escaping jail" - a proposal which it said had been opposed by Nick Clegg and other senior Liberal Democrats. The article claimed evidence shows that some offenders are escaping jail despite "repeatedly flouting the law by carrying knives."
Ministry of Justice statistics on knife possession confirm about three in four of those cautioned or convicted (72%) do not get immediate prison sentences - not quite four out of five - and about two in five (40%) of those with three or more previous convictions also avoid jail.
But immediate custodial sentences have become more common since 2008 for knife possession, seemingly as a result of legal guidance on how it should be treated.
A third of those convicted of possession go to jail
The Ministry of Justice's release on knife possession estimates that 28% of offences involving the possession of a knife or offensive weapon resulted in an immediate prison sentence in October to December 2013 - so about three out of four offenders weren't immediately locked up. Taking away those who received a caution (a formal warning but not a conviction), this increases to 33%.
But, the Ministry of Justice says that the proportion of offenders receiving immediate custodial sentences has been increasing since early 2008, when it was only 16%. Caselaw in 2008 set a guideline minimum sentencing for knife possession among adults of 12 weeks custody, which is likely to have played a role in the rise.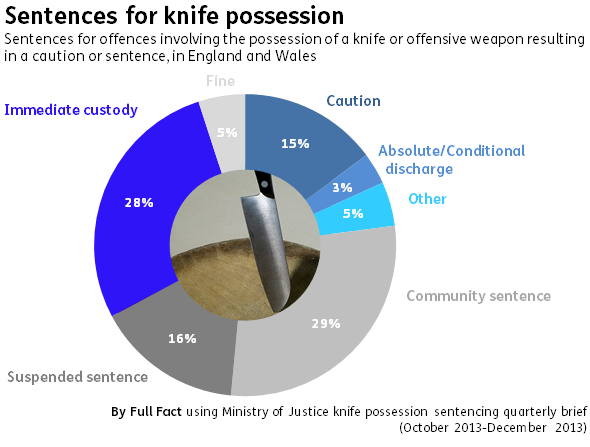 A further 16% were thought to have received a suspended sentence - where an offender is theoretically given a prison sentence, but doesn't have to serve it in jail as long as they comply with certain conditions. So some of these may end up going to prison if they breach these requirements.
Where a knife or offensive weapon has been used in a threatening way, offenders are unsurprisingly more likely to go to prison, with 58% given immediate custodial sentences in late 2013.
The overall statistics for 2013 are estimates, to account for cases not yet on the Police National Computer, but the picture isn't much different when looking at the confirmed figures for the end of 2012.
Just over half of those with 3 or more previous convictions or cautions sentenced to jail
Offenders with three or more previous convictions or cautions are more likely to be sentenced to immediate custody for knife or offensive weapon possession, with 54% gaining this sentence in 2013. 40% received other forms of sentencing and a further 6% were awaiting further sentencing.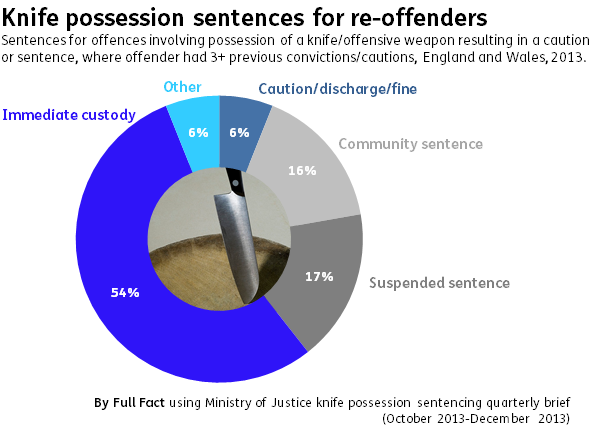 What all these don't include are the new aggravated knife or offensive weapon possession offences, introduced in December 2012. The new type of offence means that anyone aged 16 or over using a knife or offensive weapon to threaten and endanger others will face a mandatory custodial sentence by default.
So far, 61% of these offenders had received an immediate custodial sentence - a figure which is provisional and which the Ministry says is likely to increase when all sentences had been finalised. So we might see the proportion going to prison increasing.
Conversely, the figures also don't include how many offenders end up with 'community resolutions' outside of the formal criminal justice system - which we found last year to be increasing.
Graph image: PenRx on Flickr.
UPDATE 02/05/2014 - Updated to clarify that offenders receiving a caution are not 'convicted'.