How regularly are prisoners going on the run?
23 June 2014
"Serious and violent criminals are going on the run on a worryingly regular basis"

Sadiq Khan, Shadow Justice Secretary, 20 June 2014

"Escapes of this nature [referring to recent absconding cases] are becoming commonplace under this Government."

Sadiq Khan, letter to Justice Secretary Chris Grayling, 19 May 2014
"Rare and bad events make good headlines but tell a fraction of the story".
So said Juliet Lyon of the Prison Reform Trust last month after several high-profile cases of prisoners absconding while on temporary release. This week the headlines have returned as HMP Sudbury has seen four inmates go on the run in the space of five days.
The long-term picture shows that prisoners are going on the run much less than they used to, although temporary releases from prison establishments buck the trend. What little evidence we have suggests a slight increase in the number of prisoners eluding the system in the most recent year.
Three ways to go on the run
While they sound interchangeable, 'escaping', 'absconding' and 'failing to return on temporary licence' are all distinct ways that prisoners elude the system.
Escapes happen when prisoners breach a physical barrier, such as scaling a wall or breaking out of handcuffs or an escort van. These happen very rarely: there was one recorded case in 2012/13 and four in 2011/12. They're also much less common than in previous decades.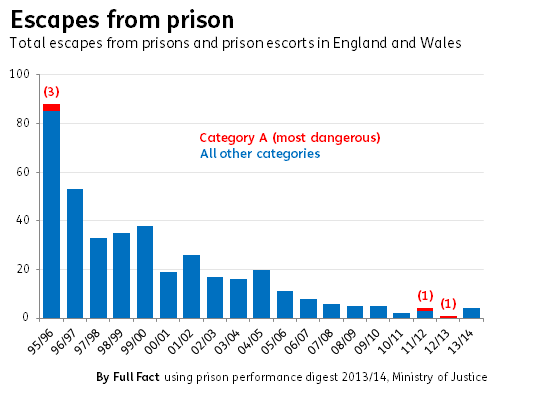 Absconds are when there isn't a physical barrier, and overwhelmingly happen at open prisons (three-quarters of all absconds last year were from these prisons). These are much more common than escapes, with one happening every 43 hours in England and Wales. Again they're happening less often now than they used to, although they rose slightly in the last year.
Almost all absconders are returned to custody. As at the end of 2012, the Ministry of Justice reports that 14 are still at large.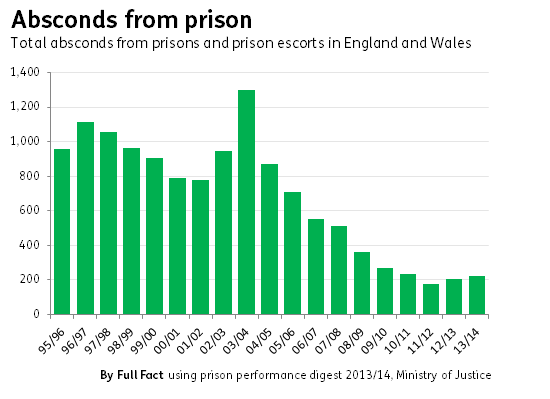 Failing to return on temporary licence is a third way, and happens when prisoners are allowed out of prison for short periods toward the end of their sentences (often for employment, training or family purposes) but fail to return when they're required to.
In 2012, around 11,400 prisoners were granted a release on a total of 485,000 occasions. Of those occasions, there were 428 cases of a failure - normally either a failure to return or the offender committing a suspected offence.
So in terms of prisoners obeying their conditions, temporary release fails 0.09% of the time.
These have become more common since the Coalition came to office, but this is partly because the practice of releasing prisoners in this period was also used more often. 20 years ago, the failure rate was still 0.3%.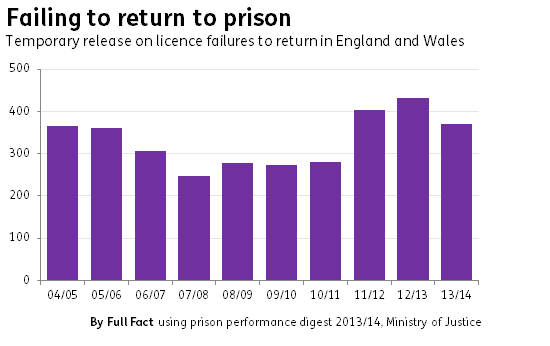 How serious and violent?
Category A prisoners - those "whose escape would be highly dangerous to the public or the police or the security of the State and for whom the aim must be to make escape impossible" - hardly ever escape. Three did so in 1995/6, but there were no further cases until the last two years. In 2012, category A prisoner John Anslow escaped from a prison escort. The following year, another escaped from Cambridge Crown Court only to be returned minutes later.
In terms of absconding from prison, a parliamentary answer from March found between six and 19 murderers abscond from prison establishments each year. As at the end of 2012-13, none remain unlawfully at large.
Separate figures on temporary licence releases show one in six failures involved a life sentence prisoner in 2012 and one in five involved a person imprisoned for public protection. In total, that's 157 cases in 2012.
Correction (24 June 2014)
The article originally stated temporary release failed 485 times in 2012, with a rate of 0.01%. It's actually 428 times, and 0.09%.