Less time in prison, more likely to reoffend?
9 May 2013
This article was updated on 10 May, see below
"12 months supervision for all prisoners on release"
"Radical reforms to the way criminals are rehabilitated will mean every offender leaving prison must serve a minimum of 12 months under supervision in the community, Justice Secretary Chris Grayling announced today."
Ministry of Justice, 9 May 2013
Today the Justice Secretary Chris Grayling hailed "the most significant change to short custodial sentences in a decade".
Under the plans, all prisoners will receive supervision for at least 12 months after they leave custody. Currently the probation service only provides this for people with sentences of more than a year.
Furthermore, from now on private and voluntary sector organisations will be able to bid to provide this supervision in any of 21 areas across the country (the boundaries of which are very similar to Police Crime Commissioner (PCC) districts). This forms the crux of the Government's so-called 'payment by results' scheme.
The most dangerous offenders won't be included, and will instead be handled by a new 'National Probation Service'.
The key aim of the proposal is to reduce what the Justice Secretary calls "shameful" reoffending rates.
The proposals haven't come without controversy. In their coverage both the BBC and the Guardian outlined some of the concerns. The Probation Chiefs Association, which represents managers in the probation service, has expressed reservations about the policy. Their Chair, Sue Hall, says that payment by results is "untried and untested in the community".
But exactly what problem is Chris Grayling trying to solve?
Reoffending - where does the problem lie?
The issue of reoffending isn't new to regular Full Fact readers. Nevertheless, it's worth outlining the key figures that are colouring today's debate.
The latest figures from the Ministry of Justice (MOJ) show that in the 12 months to June 2011, 47% of all adult prisoners reoffended within a year of being released - that's 27,000 people committing 112,000 offences overall ('reoffending' means any conviction, caution, reprimand or warning a person recieves within a one-year follow up period).
However, taking only those prisoners who've served less than one year, the proportion shoots up to 58% - 17,000 people reoffending 83,000 times combined.
This suggests that offenders sentenced to short stints in custody are the main source of the reoffending 'problem', although we shouldn't draw a strong conclusion solely on the basis of these figures. Indeed, the MoJ warn that we can't use these numbers alone to judge the relative effectiveness of different sentences, as offenders receiving short sentences will have particular characteristics compared to all offenders combined.
Chris Grayling also claimed today that reoffending costs the UK economy "up to £13 billion". This figure was cited by the MoJ in its recent consultation on the rehabilitation reforms. It comes from the National Audit Office in 2010, who posited that:
"Based on previous work by the Home Office, we estimate that, in 2007-08, re-offending by all recent ex-prisoners cost the economy between £9.5 billion and £13 billion and that as much as three quarters of this cost can be attributed to former short-sentenced prisoners: some £7 billion to £10 billion a year."
Why would short-sentenced prisoners be so costly? The NAO's reasoning is still reflected in the current stats: short-sentence (less than a year) prisoners account for around 75% of proven reoffences.
On this evidence it's clear why the Government has focused its efforts on this cohort of prisoners.
Does the probation service need reform?
As quoted in some newspapers, the probation service supervises up to 250,000 offenders each year. At the end of 2012 225,000 offenders were under supervision in England and Wales: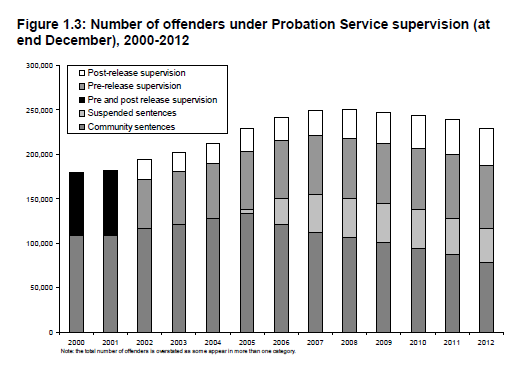 Nevertheless, one dispute that has emerged is whether any "untried and untested" reforms are in fact needed. The Chief Inspector of Probation for England and Wales, Liz Calderbank, has pointed out before that the probation service has made a positive difference to reoffending, which has shown a declining rate since 2000.
The graph below shows a declining trend for offenders sentenced to custody since 2007, although there is less of a trend for short sentences. The trend since 2000 is much less obvious and even suggests an increase in shorter sentence reoffending. Since the probation service is only responsible for prisoners serivng longer than 12 months, we can only judge it based on longer sentences. In any case, it's difficult to be conclusive about whether or not the probation service is doing as well as it should be.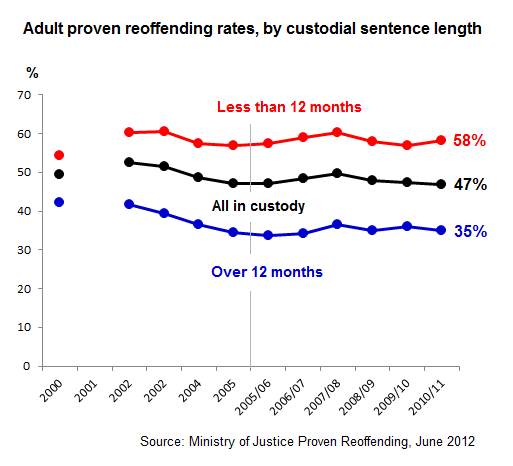 Correction
The conclusion of this piece is updated to restate that the probation service is currently only responsible for prisoners serving sentences over a year, and so should only be judged on longer-term offenders. Thanks to the Probation Chiefs' Association for pointing this out.