Is moped crime rising in London?
27th Jun 2018
Claim
Scotland Yard has logged 22,025 motorcycle muggings in 12 months – a rise of 50 per cent.
Conclusion
The Metropolitan Police have recorded 22,025 crimes enabled by scooters, mopeds and motorcycles from June 2017 to May 2018, 50% more than the same period in 2016/17, but this does mask a recent falling trend month-by-month.
"Shocking figures released yesterday show the armed thieves are striking more than 60 times every day."

"Scotland Yard has logged 22,025 motorcycle muggings in 12 months – a rise of 50 per cent."

"The Metropolitan Police figures showed that crimes committed using mopeds, scooters and motorcycles soared by 50 per cent in the year to May, to 22,025."

Mail Online, 6 June 2018
The figures reported are correct according to the Metropolitan Police, but they do mask a more recent falling trend. They indicate a surge in recorded moped, scooter and motorcycle related crimes in 2017, and falls over the course of late 2017 and early 2018. Most of the figures we use in this piece come from a press release given to us by the Met Police, which haven't all been published elsewhere.
Police figures on these kinds of crime aren't reliable indicators of trends over time in any case, as they're likely to be affected by improvements to the way crimes are recognised and counted on police systems.
More crimes in the past year than previously, but recently on a downward trend
About 22,000 incidents of powered two wheelers (scooters, mopeds and motorcycles) used in crimes – an average of 60 a day – were recorded from June 2017 to May 2018. This is 50% higher than the 14,700 recorded in June 2016 to May 2017.
The police say that some of the rise is due to an improvement in these crimes being recognised and flagged on the system. This year's figure also includes the peak of around 2,600 in July 2017. Since then they say the numbers have been falling:
"In October, November, December 2017 and Jan 18 there were 7869 offences recorded. In February, March, April and May 2018 there were 4838 offences recorded."
So the year-on-year figures mask a more recent month-by-month trend. At the peak in July 2017 there were an average of 84 crimes per day, most recently in May 2018 the average was 37.
Slightly different figures are available online from questions to the Mayor of London and they show a similar trend.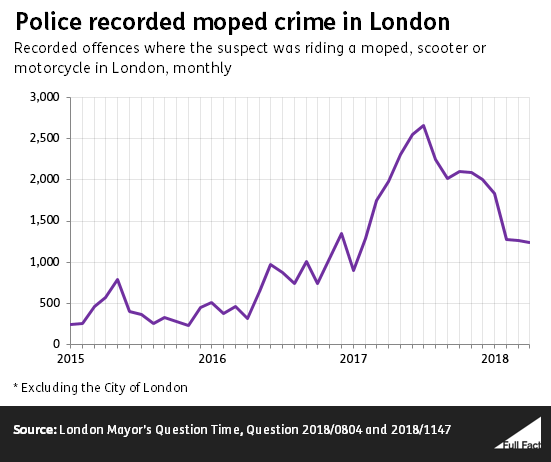 There were 572 offences recorded in April 2015 where the suspect was on a moped, scooter or motorcycle. In April 2018 there were 1,245. This is well below the peak of 2,653 in July 2017.
The number of offences also varies a lot between boroughs. Camden recorded the most offences from 2015 to April 2018–nearly 9,000–while only eight were recorded in Heathrow and 36 in Harrow.
Most recorded crimes are thefts
The Met Police released more figures recently showing that from 2011 to April 2017 the vast majority of these crimes involved robbing someone's personal property or other kinds of theft.
Out of nearly 22,000 recorded offences, almost 15,000 were classed as "other theft from the person" and another 3,500 involved robbery of personal property.
There were also 64 gun crime robberies recorded between January 2011 and April 2017.