In brief
Claim
The number of homicides in London was around 250 in 2006, 110 in 2016 and 150 last year.
Conclusion
These aren't all correct. The Metropolitan Police told us it recorded 172 homicides in 2006, 109 in 2016, and 134 in 2017 (of which 12 were terrorism related).
"If you compare the homicide rate now, the year before last there were 110, 115. This last year there were 150. When I was a commander in the MPS 12 years ago, it was 250. (Later clarification: the precise figure for 2006 was 172.)"

Cressida Dick, 5 June 2018

"The Metropolitan Police commissioner included victims of the July 7 terrorist attacks when she said there were now far fewer murders in London compared with more than a decade ago."

The Times, 8 June 2018
Following an appearance before a committee of MPs, Metropolitan Police Commissioner Cressida Dick was criticised for demonstrating the drop in homicides in London by comparing recent figures with figures which included the 52 victims of the July 2005 terrorist attacks.
Homicide figures include murder, manslaughter and infanticide. Murder figures aren't recorded separately by the Metropolitan Police.
It's not incorrect to include terrorist-related homicides when looking at the number of homicides in any given year, but it can mask other trends in crime when looking at the number of homicides over time.
Over the long term, the number of homicides in London has fallen since the mid-2000s, whether or not you include victims of terrorist incidents.  
Commissioner Dick later clarified to the committee that there were 172 homicides recorded by the Metropolitan Police 12 years ago in 2006, not 250 as she said originally. The Home Affairs committee confirmed to us that the Commissioner originally included the the 52 homicides recorded in 2005 due to the London terrorist bombings in her figures for the number of homicides in London 12 years ago.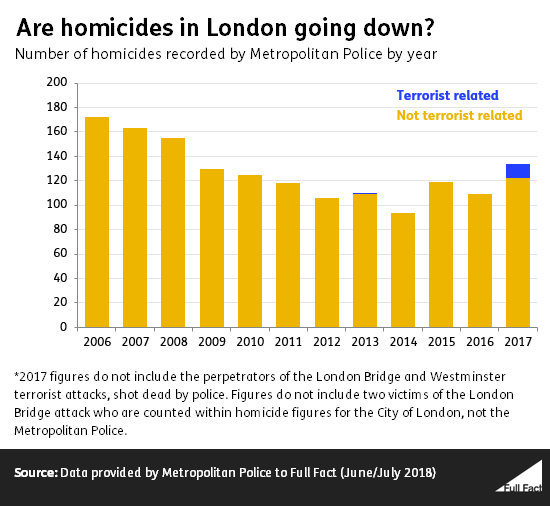 The data shows the number of homicides recorded in a given year, not necessarily the number that have occurred (homicides can in some cases occur in one year and not be recorded until a later year).
By way of comparison, a decade later, in 2016 there were 109 recorded homicides, according to the Metropolitan Police's figures and in 2017 there were 134 homicides, of which 12 were victims of the Westminster Bridge, London Bridge and Finsbury Park attacks.
Two victims of the London Bridge attack are not included in the Metropolitan Police's figures, as they were counted by the City of London Police. The City of London is responsible for its own policing while the rest of London falls under the jurisdiction of the Metropolitan Police.
The integrity of our elections is in danger, and we need your help
You're probably here looking for facts. Thank you for that trust. But with the EU parliament elections on the way and more elections a possibility, we need to act now to make sure our elections are protected, before it's too late.
Could you help protect our elections by becoming a Full Fact donor?
Misinformation isn't new, but advancements in technology mean it can spread at an unprecedented scale. Our dangerously outdated election laws have not kept up with the digital age, putting our next elections at risk of abuse.
Currently, it's possible for a candidate to run a thousand different political ads to win the same seat, promising something different to each group it targets. At the same time, there's no law requiring those who publish online campaigns to disclose who they are or how they are funded. The opportunity for bad actors to manipulate election results is left wide open.
You may already know about our work to make public debate online more honest and transparent. Every day, we call out the most harmful misinformation on social media platforms when and where we see it. But right now, we're urging the government to overhaul our election laws to make sure political campaigning is held to the same level of scrutiny online as it is offline.
This work all depends on the generosity of hundreds of people who all believe that for democracy to work, we need transparency. Our monthly donors help strengthen our voice, and show our politicians that this really matters. Would you consider joining them?
Become a donor today to make sure our elections are protected.
---