In brief
Claim
The number of police officer could be the lowest since the 1970s following funding cuts.
Conclusion
The cuts have yet to be announced and we don't know how they'd affect officer numbers. A cut of 14,000 officers would mean the lowest number since the 1970s.
"Planned government spending cuts will see at least 22,000 police jobs being lost, leaving the public protected by the lowest numbers of officers since the 1970s, according to a private estimate circulating among police chiefs."

The Guardian, 31 August 2015
Police forces in England and Wales could end up with 22,000 fewer police officers, according to the Guardian's front page splash today. That, it reports, is based on "internal figures" from the police on the likely impact of a 25% budget reduction. The governments plans on departmental spending won't be announced until the spending review later this year, but departments have been asked to prepare for cuts to their resource budgets of 25% and 40% after adjusting for inflation.
We can't predict how funding cuts would impact on the number of police officers, so we can't check out the 22,000 figure. But let's say we took it at face value: would it mean the lowest number of police officers since the 1970s?
Not knowing what the figure is based on complicates matters a little, but the answer is probably yes.
There were 124,000 police officers in England and Wales as of this March, not counting absent staff such as those on maternity or paternity leave, and not counting transport police. That compares to 110,000 officers in 1979, according to figures collected by the House of Commons Library. So a cut of 14,000 officers, by this measure, would mean the lowest number of officers since the 1970s.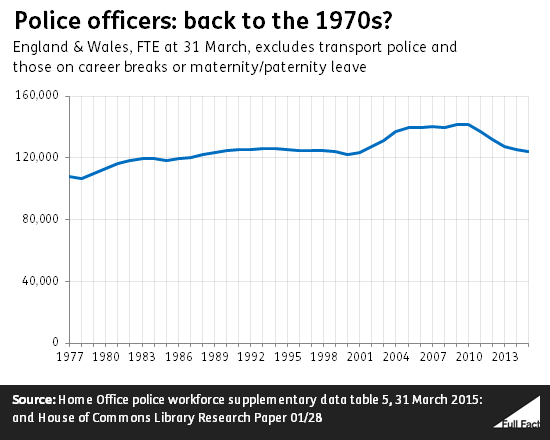 The mooted 22,000 cut might be slightly different—it might include absent staff. The government's headline figures include these officers, and as a result gives the number of officers as 127,000 rather than 124,000. These are the figures the Guardian uses in its article. But that number isn't comparable to the figures for the 1970s.
Politicians shouldn't get away with misleading us—can you help?
As the UK's independent factchecking charity, Full Fact relies on our supporters' generosity to hold public figures to account and push for higher standards of debate.
But with a new prime minister on the way, and the possibility of a general election, we need your help more than ever to ensure that everyone can get the facts they need, on the issues that matter most.
---