The number of police officers in England and Wales has fallen by over 20,000 between March 2010 and March 2018.
There were over 122,000 police officers in March this year. Counting those from the British Transport Police and those on secondment it was 126,000.
These figures refer to the number of full time equivalent officers (or how many there would be if you added up all their hours to make full time roles).
The number of police officers in England and Wales is the lowest recorded level since the early 1980s. To make a consistent comparison over time, we have to use figures from March each year.
Policing is local too, though. If you live in Merseyside, you won't be directly affected by what's happening to police numbers in Gwent.
The staffing picture varies across the 43 police forces of England and Wales. 51% of forces have gained officers in the year to March 2018, with Humberside Police seeing the biggest rise in numbers (a 9% increase). 47% have lost officers, with West Mercia seeing the biggest drop (a 4% decrease). One force saw no change. You can check your area by looking at table H5 here, and to compare with previous years A1 of this House of Commons Library research.
You might also care about the number of frontline officers. There's no hard and fast definition of who fits that description. The official definition has changed several times. At the moment, officers are categorised as one of frontline (like response teams, neighbourhood policing and front desk roles), frontline support (such as intelligence), business support (such as training) or not coded (such as national policing).
Using that breakdown, there are 16% fewer 'frontline' officers since 2010.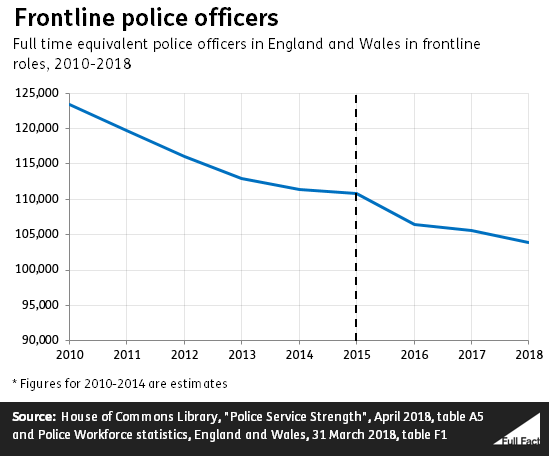 Again, that varies. Police forces structure and record their roles differently so it's tricky to directly compare them, but in March 2018 the City of London categorised 71% of police officers as frontline, while in Cheshire it was 94%.
Correction 16 April 2018
We changed the headline from "Police officer numbers in England" to "Police officer numbers in England and Wales".
With Brexit fast approaching, reliable information is crucial.
If you're here, you probably care about honesty. You'd like to see our politicians get their facts straight, back up what they say with evidence, and correct their mistakes. You know that reliable information matters.
There isn't long to go until our scheduled departure from the EU and the House of Commons is divided. We need someone exactly like you to help us call out those who mislead the public—whatever their office, party, or stance on Brexit.
Will you take a stand for honesty in politics?
---