Robbery: Is the UK a "world leader"?
4th Jun 2018
Claim
The robbery rate shot up by 10% in a year - more than any of 12 other nations examined by the Home Office
Conclusion
Broadly correct. The number of recorded robberies in England and Wales increased by 10% and the robbery rate by 9% between 2015 and 2016. That's more than in any of the other 12 countries examined by Home Office analysis.
The UK is a world leader in robberies.
The increase in the number and rate of recorded robberies between 2015 and 2016 was greater in England and Wales than in any of 12 other countries examined in Home Office analysis. But in Spain, the USA and France the actual number and rate of robberies was higher than in England and Wales.
Claim 1 of 2
"New Home Office analysis shows the UK is a world leader in... robberies."

Louise Haigh MP, 9 May 2018

"Government figures show the robbery rate shot up by 10% in a year—more [than] any of 12 other nations examined by the Home Office."

Daily Mirror, 9 May 2018
It's correct that the number of recorded robberies in England and Wales increased by 10% from 2015 to 2016, and when factoring in population changes, the robbery rate per 100,000 people increased by 9%. Both of those increases are greater than in 12 other countries analysed by the Home Office.  Not all crimes are reported to, and recorded by the police, so these figures can only tell us so much about the true level of crime. 
The UK doesn't have more robberies, or robberies per person, than the rest of the world. The analysis by the Home Office looked at figures for England and Wales rather than the UK as crime figures are published separately for Scotland and Northern Ireland.
England and Wales's recorded reported robbery rate in 2016 was fourth highest of the countries included in the analysis, while Scotland's robbery rate was the lowest. It's difficult to make an exact comparison between the robbery figures in each country due to the different definitions of robbery and the way the figures are recorded in each country.
What's happened to the robbery rate in England and Wales?
Robbery is stealing or attempting to steal from a person or business using force or the threat of force.
In 2015 there were around 51,000 robberies recorded by police in England and Wales, which increased to about 56,000 in 2016 (or by 10%).
That's 96 robberies per 100,000 people, a 9% increase on 2015, once you factor in the changes in population from 2015 to 2016.
Since the Home Office analysis was published, the Office for National Statistics (ONS) published data for 2017, showing that the number of robberies increased to about 74,000 (or by 33%) from 2016 to 2017. The ONS says that improvements in police recording may have had some impact on the rising numbers, but an actual increase in robberies may also have happened.
Not all robberies are reported to the police so we can also use survey results to determine how many robberies may have happened in total in any given year. There were estimated to be 175,000 robberies (against people, these figures don't include businesses) in 2017, according to the Crime Survey for England and Wales.
But because the figures are based on a survey and relatively few respondents may have experienced a robbery it's hard to be precise. The ONS told us the figure could have been anywhere between 125,000 and 224,000
Not all countries have similar surveys measuring crimes, whether or not they're reported, so we've not compared these figures with the countries in the Home Office analysis.  
How does robbery in England and Wales compare to other countries?
The Home Office analysis showed that between 2015 and 2016 the number of robberies in England and Wales increased more than in any of the other 12 countries examined.
That doesn't mean that the actual number of robberies was higher, even if you account for the different population sizes in each country. In 2016 the robbery rate in England and Wales was 96 per 100,000 people—lower than the USA, Spain and France, but above the other countries examined.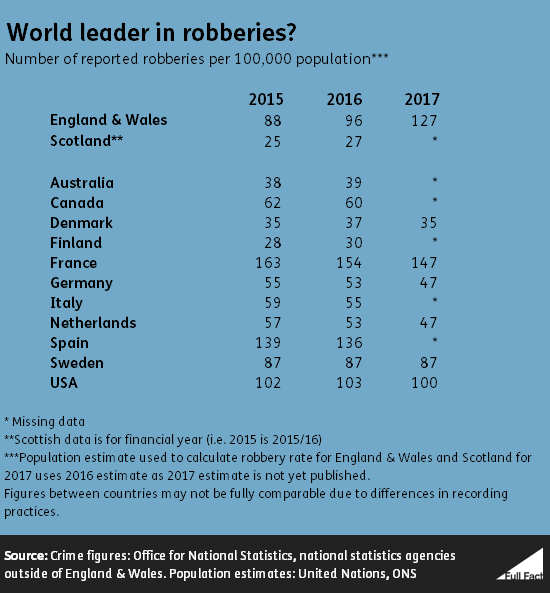 Despite increasing by a third in 2017 to 127 per 100,000, the robbery rate is still lower than the rate in France, but is now higher than the USA (some of the 12 countries in the original analysis haven't released figures for 2017 yet so we can't make a full comparison).
Problems comparing the data
Because each country records crime data in different ways, comparing data between countries should be taken with a pinch of salt.
Recorded crime doesn't capture the total level of crime as it doesn't include crime that isn't reported to the police. We don't know how high the levels of reporting and recording are in each country. This could mean that that while some countries can have similar recorded robbery figures, the number of robberies that actually happen may be very different.
Also police forces record crime differently in different countries. Most countries in Europe record crimes when they are initially reported to the police (input statistics). But in Germany and Spain crime is recorded when the investigation is over (output statistics) which Eurostat, the EU's statistical office, say tends to be lower than input statistics.   
And there are slightly different definitions of robbery in each country that affect comparability. For example, some countries exclude forms of bag-snatching, which are included in the robbery statistics for other European countries.