In brief
Claim
Stop and search is achieving a higher arrest rate.
Conclusion
Correct. The arrest rate in England and Wales rose from 8% in 2009/10 to 17% in 2016/17. The number of stop and searches fell from 1.3 million to 300,000 between those years.
"And what we have seen in the way stop and search is now being used, is it is achieving a higher arrest rate."

Elizabeth Truss MP, 19 April 2018
17% of stop and searches in England and Wales resulted in arrests in 2016/17, compared to 8% in 2009/10. There were over 300,000 stop and searches in 2016/17, compared to 1.4 million in 2009/10—meaning the overall number of stop and searches fell by 78%.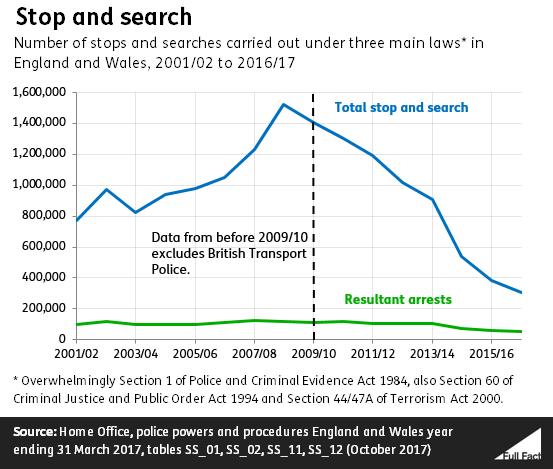 While it's tempting to take the higher arrest rate as an indicator of success, Her Majesty's Inspectorate of Constabulary and Fire & Rescue Services (HMICFRS) note that an arrest isn't necessarily a success, nor is a failure to uncover any wrongdoing necessarily a failure.
Offenders could, for instance, be arrested even if they're found to be empty of stolen or prohibited goods because they might react violently to officers or be wanted for another offence. On the flipside, failing to uncover wrongdoing could be regarded as a success if, without the stop and search powers in place, the person under suspicion would otherwise have been arrested unnecessarily.
HMICFRS also reports that "While stop and searches on white people have decreased by 78 percent, stop and searches on people from BAME communities decreased by 69 percent. The decrease for black people was even lower, at 66 percent." This is based on stop and searches under section 1 of the Police and Criminal Evidence Act, which make up the vast majority of stop and searches.
People who self-define as black or black British are the most likely to be stop and searched of any ethnic group—it's estimated at around 29 per 1,000 in 2016/17. They're over eight times more likely to be stopped and searched than white people, and that ratio has been rising in recent years.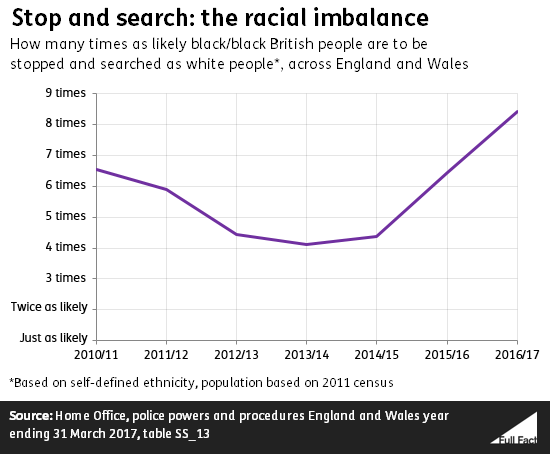 HMICFRS said in December 2017 that the rising ethnic disparity in stop and search frequency "has the potential to erode public trust and confidence in the police, particularly amongst black people, despite the reductions in the use of stop and search powers".
This factcheck is part of a roundup of BBC Question Time. Read the roundup.
The integrity of our elections is in danger, and we need your help
You're probably here looking for facts. Thank you for that trust. But with the EU parliament elections on the way and more elections a possibility, we need to act now to make sure our elections are protected, before it's too late.
Could you help protect our elections by becoming a Full Fact donor?
Misinformation isn't new, but advancements in technology mean it can spread at an unprecedented scale. Our dangerously outdated election laws have not kept up with the digital age, putting our next elections at risk of abuse.
Currently, it's possible for a candidate to run a thousand different political ads to win the same seat, promising something different to each group it targets. At the same time, there's no law requiring those who publish online campaigns to disclose who they are or how they are funded. The opportunity for bad actors to manipulate election results is left wide open.
You may already know about our work to make public debate online more honest and transparent. Every day, we call out the most harmful misinformation on social media platforms when and where we see it. But right now, we're urging the government to overhaul our election laws to make sure political campaigning is held to the same level of scrutiny online as it is offline.
This work all depends on the generosity of hundreds of people who all believe that for democracy to work, we need transparency. Our monthly donors help strengthen our voice, and show our politicians that this really matters. Would you consider joining them?
Become a donor today to make sure our elections are protected.
---