The United States' President, Donald Trump, is arriving in the UK today and staying until Sunday, according to reports.
He will reportedly have dinner with the Prime Minister and around 100 guests at Blenheim Palace in Oxfordshire on Thursday night, before a number of other events, including meeting the Queen at Windsor Palace.
It is not a "state visit"
A state visit involves a formal invitation from the Queen, on the advice of the government. The US ambassador to the UK says President Trump is coming on a "working visit".
Whilst the exact programme of a state visit can vary, there are a few typical traditions, which involve a fair degree of pageantry.
State visitors are normally given a ceremonial welcome on Horse Guards Parade, accompanied by a guard of honour, before a carriage procession down the Mall to Buckingham Palace. The welcome is accompanied by gun salutes.
They are also normally given a state banquet at in Buckingham Palace Ballroom, with around 150 guests, and a speech and toast from the Queen. In case you were in any doubt, the Royal Family says this is a "very grand and formal occasion".
The visit also normally involves meeting government ministers and the leaders of other political parties.
How does this compare to other American presidents?
There are typically a couple of state visits to the UK a year, and only two American Presidents have had a state visit to the UK since the Second World War. They were, however, the two most recent ones. George W. Bush and Barack Obama both had state visits to the UK in the third year of their first Presidential term (both had also had non-state visits prior to their state visit, in the first years of their term). President Trump is currently in his second year.
Of all presidents over the last four decades, President Trump has taken the longest to visit the UK. However, Ronald Reagan and Bill Clinton – two presidents often considered to have had particularly close relationships with the UK - also didn't visit until well into the second year of their terms.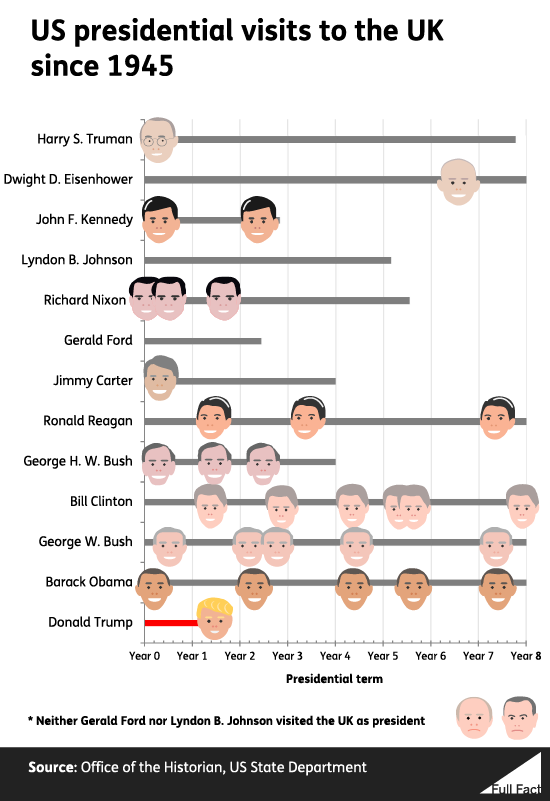 What is the cost of the visit?
We don't know what the cost of the visit will be to the UK government yet. The government publishes the final costs of any state or "guest of government" visits here.
The average cost of a non-state, "guest of government" visit to the UK from April 2014 to July 2017 was about £16,000. The average cost of a state visit in that time was over £200,000. Not all visits from foreign leaders are included in this data. For instance, neither of Barack Obama's last two visits to the UK as US President is recorded as a "guest of government" visit. Such visits are ones where the government "covers the cost of accommodation, transport, food and incidentals (to a set limit) in the UK for the Official Delegation (Principal plus a maximum of 10 ministers or senior officials) during the official programme only." It doesn't cover international air fares.
These figures don't include the cost of policing, which is the main cost that has been reported on in the press. The government has said it will give £5 million to the Scottish Police to cover the cost of policing while President Trump is there (police budgets are themselves made up of central and local government funding).
To put this cost in context, the wedding of Kate Middleton and Prince William in 2011 was reported to have cost £6.35 million in terms of policing. The Metropolitan Police estimated that policing the wedding cost around £7 million.
President Trump is reportedly arriving in Scotland on the third day of his visit, and we don't know what the costs will be for other police forces. The government has said that the three main forces involved in President Trump's visit are the Metropolitan Police, Thames Valley Police, and Essex police. It added that nearly all forces in England and Wales will be providing officers and resources to assist with the policing of the visit.
It also said that forces involved will be able to apply for a special grant to cover some of the costs. On these grants, the Home Office says: these grants are meant to cover "unexpected and exceptional events that could threaten the financial stability of one or more police forces", although "Police forces should include within their policing and budget plans reasonable contingencies for unexpected events within their areas."
It adds: "It is important to note that even if a special grant is provided, forces are expected to meet the additional costs of the event up to 1% of the force's budget. For example, if 1% of the force's budget is £2.4 million, and the (police and crime commissioner) makes an application for £3.2 million to cover the additional costs incurred, generally, the force will be expected the pay the first, £2.4 million, with a special grant providing the balance (in this example a special grant of £800k would be provided)."
Correction 12 July 2018
We originally said that the Metropolitan Police estimated that the wedding of Meghan Markle and Prince Harry cost around £7 million in terms of policing. We clarified that this was in fact in reference to the wedding of Kate Middleton and Prince William.
The integrity of our elections is in danger, and we need your help
You're probably here looking for facts. Thank you for that trust. But with the EU parliament elections on the way and more elections a possibility, we need to act now to make sure our elections are protected, before it's too late.
Could you help protect our elections by becoming a Full Fact donor?
Misinformation isn't new, but advancements in technology mean it can spread at an unprecedented scale. Our dangerously outdated election laws have not kept up with the digital age, putting our next elections at risk of abuse.
Currently, it's possible for a candidate to run a thousand different political ads to win the same seat, promising something different to each group it targets. At the same time, there's no law requiring those who publish online campaigns to disclose who they are or how they are funded. The opportunity for bad actors to manipulate election results is left wide open.
You may already know about our work to make public debate online more honest and transparent. Every day, we call out the most harmful misinformation on social media platforms when and where we see it. But right now, we're urging the government to overhaul our election laws to make sure political campaigning is held to the same level of scrutiny online as it is offline.
This work all depends on the generosity of hundreds of people who all believe that for democracy to work, we need transparency. Our monthly donors help strengthen our voice, and show our politicians that this really matters. Would you consider joining them?
Become a donor today to make sure our elections are protected.
---