In brief
Claim
Almost half of young offenders are from black or ethnic minorities.
Conclusion
This is correct if you look at "young offenders" who end up with custodial sentences. 47% of young people responding to a survey of young offender institutions by HM Inspectorate of Prisons reported they were black, Asian or minority ethnic in 2015/16. Ministry of Justice figures paint a similar picture of all children in custody.
"Almost half of young offenders from black or ethnic minorities – highest rate since 2001. Forty-seven per cent of boys held in youth offender institutions are from a black or ethnic minority background, according to a watchdog's survey."

Express, 15 November 2016
This is correct according to a report published by HM Inspectorate of Prisons on young offender institutions, though it's not true of all young people who commit a crime. The majority of those sentenced do not end up in custody and the proportions of ethnicity vary throughout the system.
The report says that "just over half (53%) [of those in young offender institutions] said that they were from a white ethnic background with 47%, the highest rate recorded since 2001, identifying as black or minority ethnic".
This is 47% of all children who responded to the survey. Last year, 86% of children in young offender institutions in England and Wales, or 632, answered it. We don't know how children who weren't surveyed would have responded.
Children who didn't tick 'white' were counted as an ethnic minority.
As the graph below shows, 47% is the highest proportion since the survey began in 2001.
The proportion of black or minority ethnic children in young offender institutions depends on the area
The proportion of children who reported that they were black or from a minority ethnic background wasn't consistent across the five young offender institutions in England and Wales. For example in the Keppel Unit in Wetherby, West Yorkshire 7% of those who responded said they were black or minority ethnic. In Feltham in London it was 70%.
All of the children held in young offender institutions are boys. Girls are now held in secure training centres or secure children's homes. There are around 1,000 children and young people held in these various youth custody facilities, the vast majority under 18.
Figures from the Ministry of Justice show that a similar proportion of under-18s across all these facilities are from ethnic minorities: around 45%, excluding unknowns, as of September 2016.  Again, that percentage has risen sharply: 10 years ago it was 25%.
Ethnic minorities overrepresented in youth custody
There's a much higher proportion of black and minority ethnic children in custody than in the overall population. 18% of 15 to 17-year-old boys identified as black, Asian or minority ethnic at the time of the 2011 census.
Emerging findings from the Lammy Review show that young males from ethnic minorities are also disproportionately likely to be arrested, charged, and prosecuted in the Crown Court (which is generally reserved for more serious offences) than their white peers.
There is no single easy answer to why minority ethnic groups are overrepresented in this way. It may in part be down to "disadvantage at earlier stages in their lives" as one study chaired by Baroness Young found in 2014.
But the report also found that factors like disproportionate use of stop and search contributed. Black, Asian and minority ethnic young people being more likely to deny an offence also came into play. Denying offences meant that they were less likely to just be cautioned. The report also raised concerns about "gang policy and the resulting police response which identifies young BAME people as a risk rather than in need".
Ethnicity varies at different points in the criminal justice system
The proportion of black, Asian and minority ethnic boys varies at different points in the criminal justice system. For example, they accounted for 23% of all 10 to 17 year-olds arrested in 2014/15 compared to 39% of all those in "secure estate custody".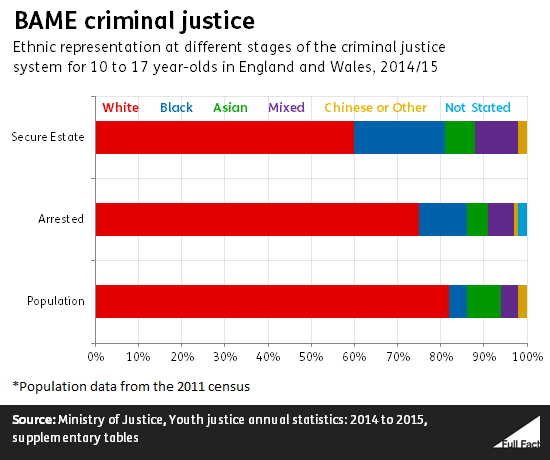 We've written more about ethnicity in the justice system more widely here.
Update 25 November 2016
We updated this piece to include more information about the proportion of black, Asian and ethnic minority young people across the rest of the justice system, not just those in custody.
The integrity of our elections is in danger, and we need your help
You're probably here looking for facts. Thank you for that trust. But with the EU parliament elections on the way and more elections a possibility, we need to act now to make sure our elections are protected, before it's too late.
Could you help protect our elections by becoming a Full Fact donor?
Misinformation isn't new, but advancements in technology mean it can spread at an unprecedented scale. Our dangerously outdated election laws have not kept up with the digital age, putting our next elections at risk of abuse.
Currently, it's possible for a candidate to run a thousand different political ads to win the same seat, promising something different to each group it targets. At the same time, there's no law requiring those who publish online campaigns to disclose who they are or how they are funded. The opportunity for bad actors to manipulate election results is left wide open.
You may already know about our work to make public debate online more honest and transparent. Every day, we call out the most harmful misinformation on social media platforms when and where we see it. But right now, we're urging the government to overhaul our election laws to make sure political campaigning is held to the same level of scrutiny online as it is offline.
This work all depends on the generosity of hundreds of people who all believe that for democracy to work, we need transparency. Our monthly donors help strengthen our voice, and show our politicians that this really matters. Would you consider joining them?
Become a donor today to make sure our elections are protected.
---