18 February's BBC Question Time, factchecked
19 February 2016
On the Question Time panel last night were Conservative Justine Greening, Labour's Lisa Nandy, the SNP's John Nicolson, broadcaster June Sarpong, and businessman Theo Paphitis. 
We've checked their claims about the EU, schools, and whether there's a teacher shortage.
Double your donation
Give today via The Big Give and your donation will be doubled.
Jobs linked to the EU
"Three million British jobs are linked to those we trade with in the EU - if we leave we could be putting those jobs at risk"—June Sarpong

"Five million jobs in the EU are linked directly with the UK economy"—Theo Paphitis
Research has shown around 3 million jobs are linked to trade with the EU, though there's no evidence they are dependent on the UK being an EU member. More recent estimates show from 3-4 million jobs are linked, using the same methods.
Whether those estimated jobs would be in jeopardy if the UK left the EU is an open debate. One of the authors of the original research commented that, if Britain were to decide to leave, while there wouldn't be job losses overnight, the risks would become greater.
But when the research body NIESR came to a similar jobs figure in 2000, it said there was "no a priori reason to suppose that many of these [jobs], if any, would be lost permanently if Britain were to leave the EU."
Theo Paphitis' five million figure comes from similar methods, used by the Institute for Economic Affairs and previously similar estimates by the economist Ruth Lea. The basic point is that the UK imports more from EU countries than it exports to them, so all things being equal we'll have fewer jobs linked to them than they will to us.
The EU: a trading bloc in decline?
"Have you seen the decline of the EU GDP figures?... the EU is the only trading bloc that's declining"—Theo Paphitis
We don't have definitive figures to show whether the EU is the only trading bloc in decline—and it's not clear which groups of countries are being counted. 
Overall, the EU economy—taken as the sum of member countries' GDPs—has been growing since the downturn in the late noughties. But, as a share of the world economy, it's declining and has been for several decades.
Last year we estimated EU countries in the 1980s made up as much as a quarter of the world's estimated total GDP. By 2015 that was expected to have fallen to one sixth among the current members and it's projected to fall further.
The World Bank regularly compiles figures on the size of exports from over 30 regional trading blocs worldwide—including the EU. The EU is in relative decline, but it's not the only one, on this measure.
Up to 2010, the North American Free Trade Agreement (NAFTA) bloc was also in relative decline. We don't yet have the figures for more recent years.
The EU deal
"Anything the Prime Minister comes back with can be rejected by the European Parliament"—John Nicolson

"Can the Council of Ministers not override the European Parliament in the end?... more likely than not"—David Dimbleby
It's correct that important parts of the Prime Minister's EU deal will need the European Parliament's approval.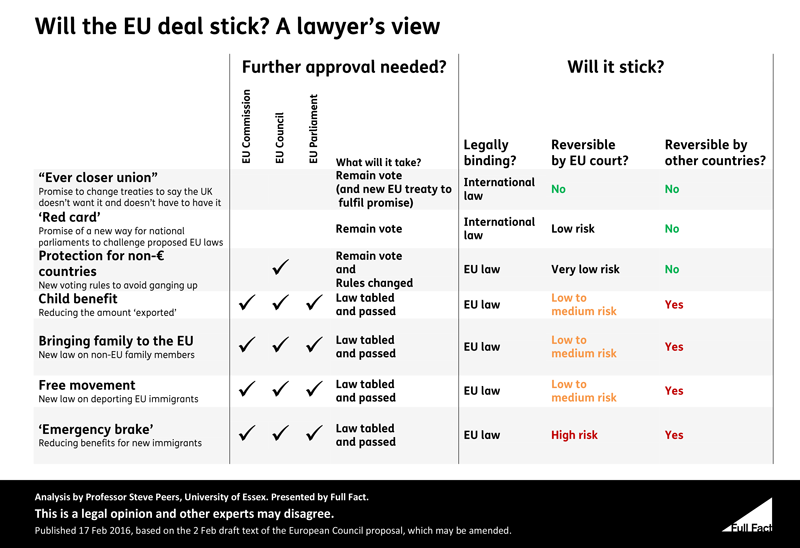 Our expert's analysis of the EU deal says that the laws necessary to make changes on immigration and benefits must be approved by both the Council and the Parliament.
European integration
"Subsidiarity - do you remember that word? The Prime Minister says... that one of the things he's trying to stop is Britain being sucked deeper into European integration"—John Nicolson
In case you don't remember: 'subsidiarity' in the EU means that decisions are supposed to be taken at national level rather than at European level wherever possible.
It was introduced in 1993 to try to ensure that decisions are taken "as closely as possible to the citizen", and to reduce the amount of regulation at European level.
The EU treaties say that decisions are only to be made at European level if their objectives can't be sufficiently achieved by individual member states, and can be better achieved at Union level.
Critics say that the idea of subsidiarity hasn't led to less regulation. They argue that in practice the European Commission interprets these criteria as applying to all proposals for Europe-wide rules.
The EU deal being discussed this morning would beef up the notion of subsidiarity - see here for details.
School performance
"What you've seen happening over the last 5 to 6 years is ... around 1.3, 1.4 million more children in good or outstanding schools"—Justine Greening
As of last summer, there were 6.2 million children being taught in schools ranked good or outstanding by inspectors Ofsted, 1.4 million more than in 2010.
This is set against a backdrop of rising pupil numbers, but the proportion of pupils in good or outstanding schools has been rising too.
There's no doubt that schools' Ofsted performance is improving.
This progress is partly due to Ofsted's changing inspection practices. It redefined what was expected of schools and placed a greater emphasis on inspecting schools which fell below this expectation.
See our factcheck for more information.
A teacher shortage?
"There is a national teacher shortage"—Audience member
There's no one set of statistics that gives a comprehensive answer to whether there's a teacher shortage. We'll be taking a more detailed look at this soon. 
The number of teachers in English state-funded schools was the highest on record in 2014, but the number in secondary schools has been falling. These are the most recent figures available.
There have been problems with the recruitment of trainee teachers at secondary level—the number of people beginning secondary teacher training in 2015 was below target. Certain subjects, such as the sciences, were particularly short of target. 
The proportion of teacher posts that are vacant is still low, at 0.3%, but has been rising over the past few years. As has the proportion of teacher posts that have been filled temporarily, which is now at 0.9%.