22 October's BBC Question Time, factchecked
23 October 2015
We've taken a look at some of the claims on last night's BBC Question Time on topics ranging from sugar consumption, taxes on cigarettes, the economic performance of the North, tax credits, manufacturing and steel.
Panellists were Conservative Nadhim Zahawi, Labour's former home secretary Alan Johnson, leader of UKIP Nigel Farage, writer Germaine Greer and businesswoman and winner of The Apprentice Michelle Dewberry.
"Obesity is costing the NHS £6 billion a year, so somehow we've got to try and recoup those costs"—Michelle Dewberry
A figure similar to this can be found in an academic report from 2011, which was used in a recent British Medical Association report.
But in both of those reports, £6 billion is given as the cost of poor diets to the NHS in 2006/07 — that's different to the cost of obesity. A person might eat healthily but be overweight due to a lack of exercise, for instance. Others might eat unhealthily and suffer the consequences in the form of high cholesterol or tooth decay, but stay a healthy weight.
A better estimate for the costs of obesity specifically comes from the same study, which put the cost of overweight and obese patients at £5.1 billion that year. That cost is not on top of the £6 billion, as some treatments will have been due to obesity and poor diet.
"It didn't work with cigarettes, why would it work with sugar?"—Germaine Greer

"Germaine, actually taxing cigarettes did help to bring down smoking. The percentage of the population that smoke now are at the lowest ever. And the price of cigarettes was a factor in that."—Alan Johnson
It's correct to say the proportion of Brits who smoke cigarettes is now thought to be the lowest on record.
In 2013, about one in five people (19%) smoked cigarettes. This compares to almost half of us (46%) in 1974, when we started collecting official figures.  
There's not much point in simply comparing the prices of cigarettes to trends in smoking and seeing if the two correlate. Other factors like public awareness about the dangers of smoking and changes in lifestyle choices will affect smoking rates too.
The extent to which taxes on cigarettes specifically (or increased prices of cigarettes) has led to fewer smokers is the subject of much academic debate—which is complex and diverse enough that there's no quick answer.
"The North East is the fastest area in terms of job creation. The North West is exporting more than the rest of the UK...That's the data, that's the facts."—Nadhim Zahawi
We haven't been able to get through to Nadhim Zahawi's office to confirm which statistics he's referring to. The statistics we've looked at don't back up his claims.
Official figures from the end of last year put the north east of England top for growth in its employment rate.Those figures are out of date now.
More recent data shows the rate of employment in the North East fell by 0.9 percentage points in the last year. The South West, on the other hand, saw a growth of 2.2 percentage points.
The level of employment (16+) in the North East barely changed in the last year (and fell by 0.6% over the last quarter). Wales in contrast saw the total number of people in employment increase by 4.1% over the year—so the North East is a fair way off being top.
Mr Zahawi may instead have been talking about the number of jobs, rather than the number of people in employment. These statistics don't put the North East top, either.
Mr Zahawi also claimed that the North West is exporting more than the rest of the UK. The latest data shows the North West was the fourth largest exporter of goods in the UK. It exported 9% the total value of UK exports, compared to the South East which was responsible for 14%. Those figures are provisional, but annual figures for previous years still put the South East top.
We'll update this section if we hear back from Mr Zahawi's office.
"For nearly three million of them, in the middle of next year, to get a further kick in the teeth of over a thousand pounds a year..."—Nigel Farage

"What you can't excuse is introducing this immediately so that families from April next year lose £1,300 per year."—Alan Johnson
£1,300 is a "rough estimate" by the House of Commons Library of the average reduction in income next year for working households that receive tax credits.
3.3 million working households currently receive tax credits. Changes to working tax credit will restrict eligibility and the entitlements for those receiving it. Those changes are expected to reduce spending on tax credits by about £4.4 billion.
Spreading that £4.4 billion reduction across those 3.3 million households works out at a loss of about £1,300 each.
Some families will be more affected by this than others. The biggest reductions will be for people who currently receive it who are on the highest incomes.
See our factcheck for more detail.
"We have got manufacturing thriving, the steel industry will survive and will continue to thrive in the UK because of the support the Government will offer it"—Nadhim Zahawi
Manufacturing output, including that of basic metals and metal products, has risen since the Coalition government took office in 2010. That followed a sharp dropoff that coincided with the recent recession.
We don't know how much of the metal output was related to steel.
Output still hasn't recovered to pre-recession levels. Overall, manufacturing remains a much smaller share of the UK economy that it was in previous decades.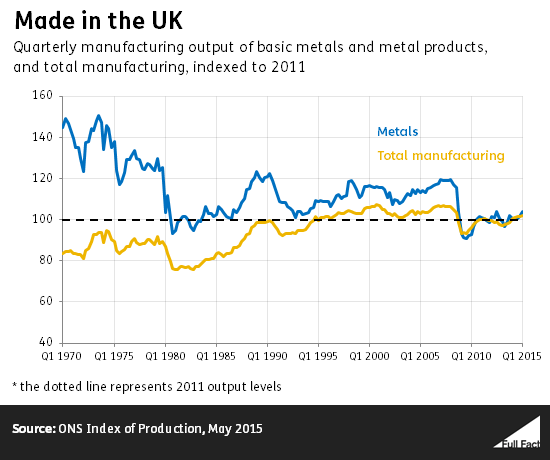 Our thanks to a reader, who pointed us to the data we've used in this chart.

Production of crude steel had risen in recent years, according to the International Steel Statistics Bureau. Production was at about 10 million tonnes or lower in each of the four years from 2009 to 2012, before rising again to 12 million tonnes in 2014. That doesn't include products made out of steel, whereas the ONS figures do.
Neither set of figures will include the effects of the recently announced closures and job losses.
"Sajid Javid, the Business Secretary was asked what he could do to help the steel industry through its short-term mess. He said because of EU state aid rules, absolutely nothing"—Nigel Farage
State aid is government financial support for a particular company or sector. There are EU rules against it, enforced by the European Commission, with the aim of stopping unfair competition in the common market.
One of the major treaties that gives the EU its authority says that
"any aid granted by a Member State or through State resources in any form whatsoever which distorts or threatens to distort competition by favouring certain undertakings [companies] or the production of certain goods"
is ruled out if it affects trade between EU members.
There are exceptions to that rule. Potential exceptions generally have to be approved by the Commission.
Sajid Javid (the Business, Innovation and Skills Minister) said on Tuesday that the government is seeking approval from the Commission for compensation it wants to give to the steel industry for renewable energy levies.
This aid can't be handed out until the Commission has made its decision, but the decision may be that the Commission approves the aid.
Giving out aid without Commission authorisation would be illegal. The government's guidance on identifying state aid boils it down to four questions:
"Does the aid favour certain undertakings or the production of certain goods?
Is aid provided through State resources?
Does the aid distort or threaten to distort competition?
Does the aid affect trade between Member States?"
As the guidance points out, the third and fourth criteria are easily met in practice. They are likely to be in this case because other EU member countries produce steel and trade it among themselves.
So on the face of it, Mr Javid is right that this money can't just be handed over without running it past the Commission.
We're not going to second-guess the Commission's decision, but it does acknowledge that companies using a lot of electricity can be helped with extra costs arising from renewable levies.
State aid that isn't justified by reference to renewable energy costs may be harder to argue for. European Commission guidelines say that "in the present conditions of significant European and global overcapacity, State aid for rescuing and restructuring steel undertakings in difficulty is not justified".