In brief
Claim
60% of all sales from Northern Ireland go to Great Britain.
Conclusion
Correct in 2015.
"Our biggest market for sales, 60% of all sales, the sales done in Northern Ireland goes to Great Britain, to the rest of the UK."

Simon Hamilton MLA, 12 October 2017
59% of what Northern Ireland sold outside its own borders in 2015 went to the rest of the UK.
15% went to the Republic of Ireland, 8% to the rest of the EU, and 16% to the rest of the world.
In total Northern Irish sales added up to £73 billion worth of goods and services with £48 billion staying in Northern Ireland, £14.4 billion worth going to the rest of the UK, and £10 billion worth ending up elsewhere in the world.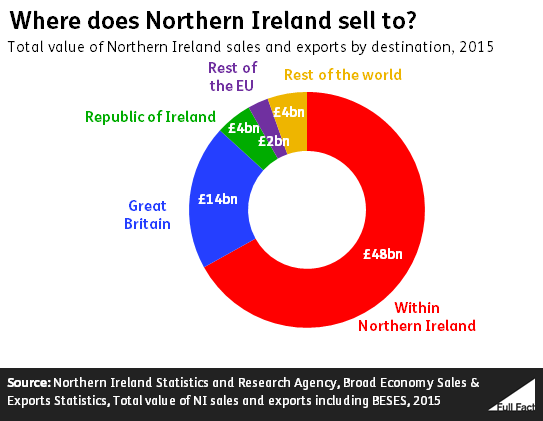 This factcheck is part of a roundup of BBC Question Time. Read the roundup.
With Brexit fast approaching, reliable information is crucial.
If you're here, you probably care about honesty. You'd like to see our politicians get their facts straight, back up what they say with evidence, and correct their mistakes. You know that reliable information matters.
There isn't long to go until our scheduled departure from the EU and the House of Commons is divided. We need someone exactly like you to help us call out those who mislead the public—whatever their office, party, or stance on Brexit.
Will you take a stand for honesty in politics?
---