In brief
Claim
60% of all sales from Northern Ireland go to Great Britain.
Conclusion
Correct in 2015.
"Our biggest market for sales, 60% of all sales, the sales done in Northern Ireland goes to Great Britain, to the rest of the UK."

Simon Hamilton MLA, 12 October 2017
59% of what Northern Ireland sold outside its own borders in 2015 went to the rest of the UK.
15% went to the Republic of Ireland, 8% to the rest of the EU, and 16% to the rest of the world.
In total Northern Irish sales added up to £73 billion worth of goods and services with £48 billion staying in Northern Ireland, £14.4 billion worth going to the rest of the UK, and £10 billion worth ending up elsewhere in the world.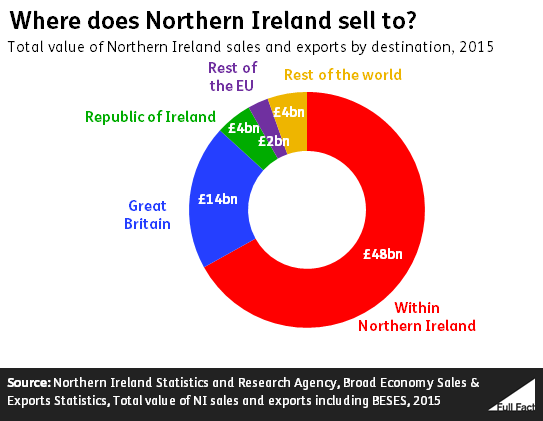 This factcheck is part of a roundup of BBC Question Time. Read the roundup.
We need facts more than ever.
Right now, it's difficult to know what or who to trust. Misinformation is spreading. Politics and the media are being pushed to the limit by advancements in technology and uncertainty about the future. We need facts more than ever.
This is where you come in. Your donation is vital for our small, independent team to keep going, at the time when it's needed most. With your help, we can keep factchecking and demanding better from our politicians and public figures.We can give more people the tools to decide for themselves what to believe. We can intervene more effectively where false claims cause most harm.
Become a donor today and stand up for better public debate, on all sides, across the UK.
---