"Labour's plans for raise the National Minimum Wage closer to average earnings to £8 an hour by 2020 will actually deliver a real term cut. [sic]?—Liberal Democrats
We normally use 'real terms' to talk about the amount of goods and services that you can afford to buy. This isn't what the Liberal Democrats are doing here: for £8 an hour in October 2020 (October tends to be the time of year when the rates are changed) to be worth less in real terms than £6.50 in October 2014, inflation would have to average over 3.5% each year until 2020.
Given that inflation is currently substantially below the 2% target set by the Bank of England, this is quite unlikely.
The Lib Dems go on to say that "Continuing the current trend in increasing the New Minimum wage will see it at £8.23 by 2020". This figure has been reached by taking the average rate of growth in the minimum wage from 1999 to 2014 and then projecting this forwards.
But the minimum wage doesn't grow at a constant rate. It varies over time, and decisions about increases can take into account the state of the economy.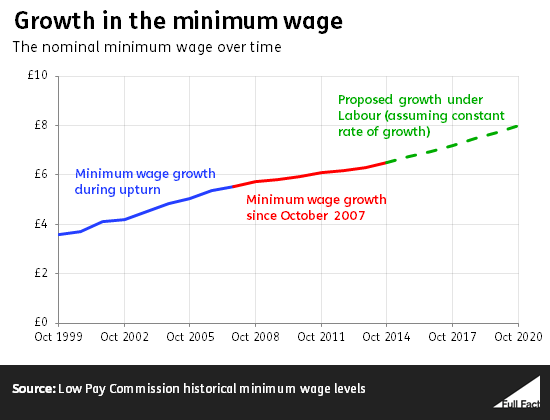 From 1999 to 2007, the minimum wage grew just under 5.5% each year. From 2007 to 2014, it's grown about 2.4% each year. So taking the average rate over the period and projecting it could be misleading.
A minimum wage of £8 an hour in 2020 might be below the long term trend, but it wouldn't be a real terms cut in any meaningful sense.
We need facts more than ever.
Right now, it's difficult to know what or who to trust. Misinformation is spreading. Politics and the media are being pushed to the limit by advancements in technology and uncertainty about the future. We need facts more than ever.
This is where you come in. Your donation is vital for our small, independent team to keep going, at the time when it's needed most. With your help, we can keep factchecking and demanding better from our politicians and public figures.We can give more people the tools to decide for themselves what to believe. We can intervene more effectively where false claims cause most harm.
Become a donor today and stand up for better public debate, on all sides, across the UK.
---