In brief
Claim
In the UK, women earn less than men.
Conclusion
This is true overall. The gender pay gap is 9.1% per hour for full time employees in the UK, or £1.32 per hour. It isn't true just for part-time work or every individual age group, and the size of the gap varies across different types of job.
"If you're a woman, you will earn less than a man."

Theresa May, 13 July 2016
It's true that you would expect a woman working in the UK to earn less than a man. In 2017, the median hourly wage for women working full time was about 9.1% less than the median hourly wage for men (excluding overtime). That's £1.32 less per hour.
Women also do more part time work than men. If you count part-time wages too, the gender pay gap rises to 18.4%, or £2.52 per hour.
The Office for National Statistics says there isn't a single number that adequately deals with all the issues surrounding differences between women and men's pay, but they prefer to look at median hourly earnings.
What does that actually mean?
The gender pay gap is the difference between men's and women's earnings. It is normally calculated by subtracting median hourly earnings for women from median hourly earnings for men. The difference is the gender pay gap.
This difference can also be expressed as a percentage of male earnings.
Imagine you randomly picked 100 women who work in the UK and lined them up in order of who earns the most per hour, regardless of the hours they worked.
Then imagine you randomly took 100 men and did the same, before standing the two rows face to face.
If you walked halfway down the row, to the 50th woman and the 50th man, on average that woman would earn £2.52 less per hour than the man she was facing, or 18.4% less.
If you only lined up people with full-time jobs, you would expect the median woman to earn 9.1% less than the median man, or about £1.32 less per hour.
That's the gender pay gap for median hourly wages.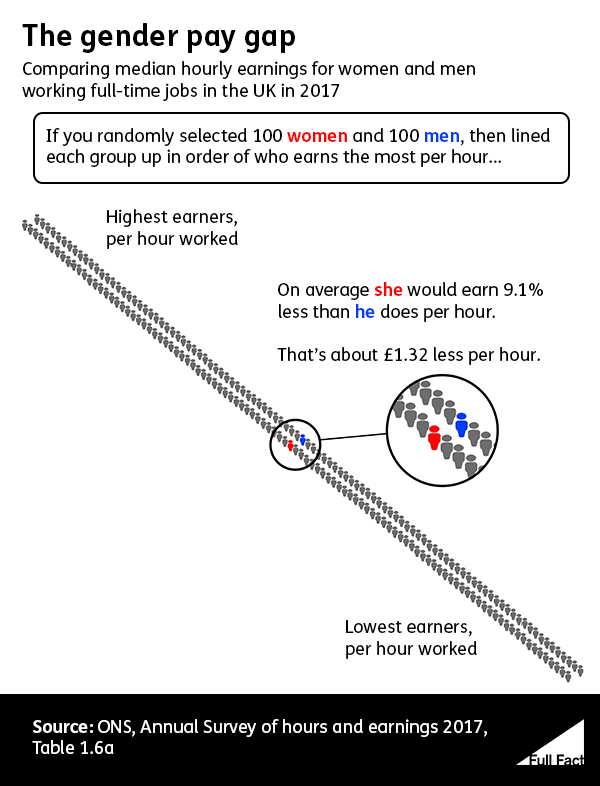 The pay gap widens the more you earn
You would expect the 11th highest earning woman who worked full-time to earn 18.2% less than her male counterpart, about £5.68 less per hour. The 10th lowest earning woman would only earn 5.0% less, about 42p less per hour.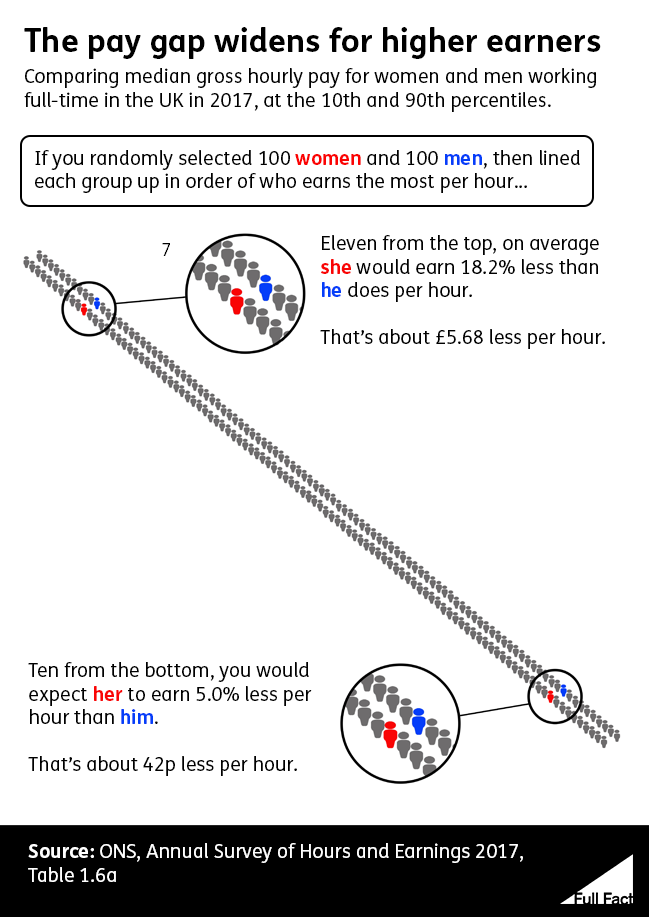 The differences are bigger if you look at weekly, monthly or annual earnings, since men tend to work more paid hours each week.
They're also larger if you included overtime pay, since men tend to do more hours paid overtime. Including overtime pay, the median hourly wage for a woman is 18.9% lower than the median wage hourly wage for a man, if you count full-time and part-time wages. That's £2.61 less per hour.
For part time jobs, the gap goes the other way
The pay gap actually works the other way around for part-time jobs—women get paid more than men. This is called the 'negative gender pay gap'.
The median hourly wage for women who work part-time is 5.1% higher than for men, so about 45p an hour more.
But the median hourly wage for part-time jobs is 35% lower than the median hourly wage for full time jobs. That's £4.82 less per hour—much larger than the negative pay gap.
About 41% of women who work have part-time jobs, compared to just 13% of men. So the fact that more women do part time work widens the gap overall.
The gender pay gap has become smaller
The hourly gender pay gap for full-time workers dropped by 8.3 percentage points from 1997 to 2017, with the pay gap for all workers falling by about 9.1 percentage points.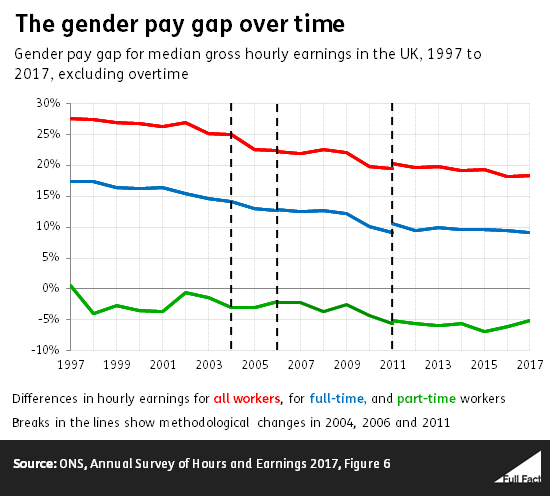 The Institute for Fiscal Studies (IFS) suggests one reason for the decline is that the overall level of women's educational qualifications has increased more quickly than men's. In the late 2000s women became the more qualified group.
If we take education into account, we can see that the pay gap hasn't fallen for everyone.
Although it has fallen amongst workers with GCSEs as their highest qualification, the gender pay gap has stayed roughly the same for people with A levels and graduates.
So the gap has declined overall for two reasons. First, because of the declining gap among workers with only GCSEs. Secondly, because more women have moved into the higher educated, and higher paid, groups.
The negative gender pay gap for part-time workers increased by about 5.7 percentage points over the last 20 years.
The gap changes for different age groups
For full-time employees in their 20s and 30s the pay gap is relatively small. It increases by a large amount for full-time employees in their 40s and 50s, and declines slightly afterwards.
The negative pay gap for part-time workers only occurs for those under the age of 50. Among older part-time workers, men generally get paid more than women.
How do we explain this?
Part of the difference is between generations. The pay gap has fallen for people born in later decades.
But the gap also changes over a single generation's lifetime. After the age of 30, the average hourly wage for men continues to rise whilst average hourly wages for women stay the same.
The IFS suggest that this is mainly due to the knock-on effects of women reducing their hours or taking time out of work to have children. It identifies a gradual but continuous rise in the gender wage gap in the twelve years after families have their first child.
The effect isn't the same for all women. Highly educated women appear to miss out the most from taking time out of work. The lowest educated women lose out very little on pay increases by reducing their hours or taking time out of work.
The IFS suggests that the increase in the size of the pay gap is because women lose out on accumulating workplace skills and experience.
But, as the report says, it's much easier to spot differences in career patterns than it is to prove they're the cause of the widening gap.
And their account doesn't explain the part of the gap that exists before the birth of the first child.
The IFS agreed that their preferred explanation doesn't rule out alternatives—as long as those alternative explanations account for the data properly. What would that mean?
They told us that any good explanation would need to account for the slow, cumulative increase in the gap after the birth of the first child.
And it would need to explain why a gap exists before people have children.
The pay gap varies across different types of job
For full-time employees, the pay gap exists across all the main types of job.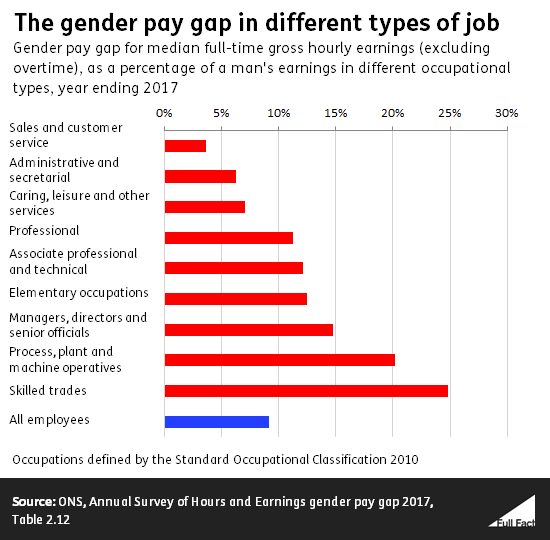 Correction 16 November 2017
In an older version of this article we said that the IFS briefing showed the gender pay gap had risen for graduates over time. We clarified this with the IFS who told us it has likely stayed at about the same level, but it's difficult to say for sure.
The integrity of our elections is in danger, and we need your help
You're probably here looking for facts. Thank you for that trust. But with the EU parliament elections on the way and more elections a possibility, we need to act now to make sure our elections are protected, before it's too late.
Could you help protect our elections by becoming a Full Fact donor?
Misinformation isn't new, but advancements in technology mean it can spread at an unprecedented scale. Our dangerously outdated election laws have not kept up with the digital age, putting our next elections at risk of abuse.
Currently, it's possible for a candidate to run a thousand different political ads to win the same seat, promising something different to each group it targets. At the same time, there's no law requiring those who publish online campaigns to disclose who they are or how they are funded. The opportunity for bad actors to manipulate election results is left wide open.
You may already know about our work to make public debate online more honest and transparent. Every day, we call out the most harmful misinformation on social media platforms when and where we see it. But right now, we're urging the government to overhaul our election laws to make sure political campaigning is held to the same level of scrutiny online as it is offline.
This work all depends on the generosity of hundreds of people who all believe that for democracy to work, we need transparency. Our monthly donors help strengthen our voice, and show our politicians that this really matters. Would you consider joining them?
Become a donor today to make sure our elections are protected.
---