"One in three businesses is losing money as 'Zombie Britain' faces long and winding road to recovery."

Daily Mail, 14 November 2012
The Bank of England warned yesterday that the UK faced a "zig zag" path to economic recovery, as it downgraded its growth forecasts for the year ahead.
While this gloomy move dominated much of the media coverage, the Daily Mail led this morning with another claim: that a third of UK companies were running at a loss.
So where does this statistic come from, and is it as bad as it sounds for British business-owners?
The Source
The Bank of England itself analysed the fortunes of UK companies in the inflation report that it released yesterday.
As the graph below shows, the Bank did find that just over 30% of companies were reporting losses in the most recent period for which there is data: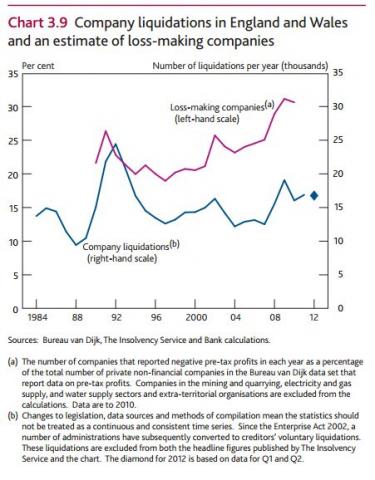 As the smallprint states, the raw data itself is gathered from business information providers the Bureau van Dijk, who don't make this information available to the public.
However we do know that the data covers all private businesses on the Bureau van Dijk database that aren't working in financial services, and that the figures date from 2010.
What does this tell us about the health of UK businesses?
The Mail claims that the figures show that so many companies "have survived only because interest rates are at an historic low and the banks are reluctant to pull the plug on them.
"the whole point of monetary policy loosening at the moment [is] to keep companies who have a viable long-term future in business while demand is temporarily weak."
However we do need to bear in mind that data only stretches to 2010, while interest rates only reached their current 'historic low' of 0.5% in 2009, so whether this will be sustained in the long-run remains to be seen.
The Office for National Statistics also publishes data on the Profitability of UK Companies, and this shows that on average, British businesses have seen profits creep up since 2009, after slumping by over 20% between 2007 and 2009.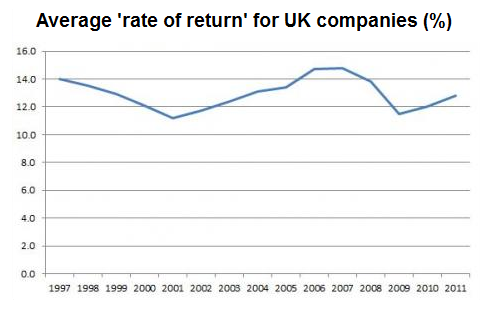 (Rate of return represents the amount of money a company brings in through revenues as a proportion of its outlay.)
The Mail is correct that nearly a third of UK companies are operating at a loss, or rather, they were in 2010. Since 2009 however, average company profits have crept upwards, so when data is available for 2012 we may yet find the situation is not as bleak as this suggests.
The integrity of our elections is in danger, and we need your help
You're probably here looking for facts. Thank you for that trust. But with the EU parliament elections on the way and more elections a possibility, we need to act now to make sure our elections are protected, before it's too late.
Could you help protect our elections by becoming a Full Fact donor?
Misinformation isn't new, but advancements in technology mean it can spread at an unprecedented scale. Our dangerously outdated election laws have not kept up with the digital age, putting our next elections at risk of abuse.
Currently, it's possible for a candidate to run a thousand different political ads to win the same seat, promising something different to each group it targets. At the same time, there's no law requiring those who publish online campaigns to disclose who they are or how they are funded. The opportunity for bad actors to manipulate election results is left wide open.
You may already know about our work to make public debate online more honest and transparent. Every day, we call out the most harmful misinformation on social media platforms when and where we see it. But right now, we're urging the government to overhaul our election laws to make sure political campaigning is held to the same level of scrutiny online as it is offline.
This work all depends on the generosity of hundreds of people who all believe that for democracy to work, we need transparency. Our monthly donors help strengthen our voice, and show our politicians that this really matters. Would you consider joining them?
Become a donor today to make sure our elections are protected.
---