In brief
Claim
Claiming to be living alone is one of the most common types of benefit fraud.
Conclusion
It was probably the fourth most common type of benefit fraud in 2016/17 where the specific reason was known, accounting for an estimated 9% of overpayments relating to fraud.
"Claiming to be living alone is one of the most common types of benefit fraud"

Department for Work and Pensions, 13 February 2018
Just in time for Valentine's Day, the Department for Work and Pensions reminded loved-up couples receiving benefits to declare their living arrangements. It said that people claiming to be living alone, when they weren't, was one of the most common types of benefit fraud.
Looking at the cost of overpayments where benefit fraud has happened, about 9% was estimated to be down to claimants saying they were single and not informing DWP they actually lived with someone else and had a "joint household" in 2016/17. So this was probably the fourth most common type of benefit fraud that year, where the reason was known.
The figure includes the cost of fraud overpayments for Jobseeker's Allowance, Employment and Support Allowance, Pension Credit, Housing Benefit, Universal Credit and Personal Independence Payment. These account for around a third of all benefit spending and a sample of cases are continuously reviewed for fraud and other types of overpayment or underpayment to claimants. From this sample of benefits an overall estimate is then produced, so there is a grey area around the numbers meaning we can't be sure exactly what the rank order is.
Most other benefits are only reviewed occasionally or not at all so we don't know the specific reasons for fraud overpayments in these cases.
DWP says that benefit fraud occurs when three things happen: "The basic conditions for receipt of benefit, or the rate of benefit in payment, are not being met; The claimant can reasonably be expected to be aware of the effect on entitlement; [and] Benefit stops or reduces as a result of the review".
Other reasons for benefit fraud include concealing employment
Concealing employment by the claimant or the claimant's partner was the most common type of fraud (estimated to be 35% of spending on fraud overpayments) where the reason was known.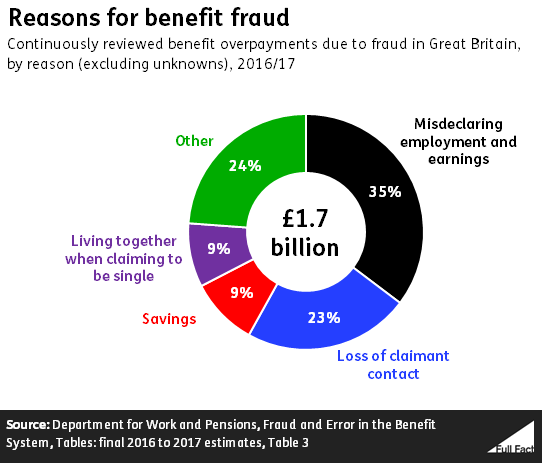 Other fraud types include 'loss of claimant contact', which is estimated to account for 23% of fraud overpayments. This is where a claimant being reviewed by the survey does not engage with the process, or withdraws their benefit claim. 
An estimated 9% of fraud overpayments relate to the information about a claimant's savings being hidden or incorrect.
Benefit fraud is one type of overpayment—where money is lost because claimants are paid too much.  Fraud accounted for almost two thirds of overpayments in 2016/17 where the reason for the overpayment was known. Other overpayments were due to errors made by the claimant or officials.
The value of fraud overpayments was estimated to be 1.2% of all benefit spending that year.
The estimates don't catch every instance of fraud. "This is because fraud is, by its nature, a covert activity and some suspicions of fraud on the sample cases cannot be proven."
The integrity of our elections is in danger, and we need your help
You're probably here looking for facts. Thank you for that trust. But with the EU parliament elections on the way and more elections a possibility, we need to act now to make sure our elections are protected, before it's too late.
Could you help protect our elections by becoming a Full Fact donor?
Misinformation isn't new, but advancements in technology mean it can spread at an unprecedented scale. Our dangerously outdated election laws have not kept up with the digital age, putting our next elections at risk of abuse.
Currently, it's possible for a candidate to run a thousand different political ads to win the same seat, promising something different to each group it targets. At the same time, there's no law requiring those who publish online campaigns to disclose who they are or how they are funded. The opportunity for bad actors to manipulate election results is left wide open.
You may already know about our work to make public debate online more honest and transparent. Every day, we call out the most harmful misinformation on social media platforms when and where we see it. But right now, we're urging the government to overhaul our election laws to make sure political campaigning is held to the same level of scrutiny online as it is offline.
This work all depends on the generosity of hundreds of people who all believe that for democracy to work, we need transparency. Our monthly donors help strengthen our voice, and show our politicians that this really matters. Would you consider joining them?
Become a donor today to make sure our elections are protected.
---