Is the Budget helping first-time buyers or second home owners?
21 March 2013
It might have been a coincidence. But on the day that the Government denied allegations that its new mortgage lending scheme would offer assistance to aspiring second home owners, the Times published its list of the "30 best places to buy a second home". 
Indeed, while the Government was at pains to emphasise that its 'Help to Buy' initiative is designed for first-time buyers, Labour branded it "the spare home subsidy". 
What is 'Help to Buy'?
The first part of the scheme means that it will be possible for someone to secure a government loan on a new build home at up to 20% of the value. This will be available from 1 April 2013.
Appearing on this morning's Radio 4 Today programme, the Chancellor George Osborne explained the second, more controversial part of the Government's plan - to "guarantee" the mortgage of anyone buying a property, up to a cap of £600,000.
After the shock of the credit crisis, banks remain unwilling to lend money to first-time buyers. In what he described as a "big intervention" into the housing market, Mr Osborne says the Government intends to increase the supply of "low deposit mortgages". He argued that by providing incentives to banks more people are able to buy their own home with only small cash deposits.
Both the equity loan and the mortgage guarantee will be available to anyone, as long as they can provide a deposit of at least 5% of the property's value.
As the graph from the Office for National Statistics' Households and Families release below shows, the number of first-time buyers has dropped sharply since 2007. In 1974 first-time buyers were responsible for 44 per cent of all mortgages, but by 2010, they accounted for only 37 per cent of loans.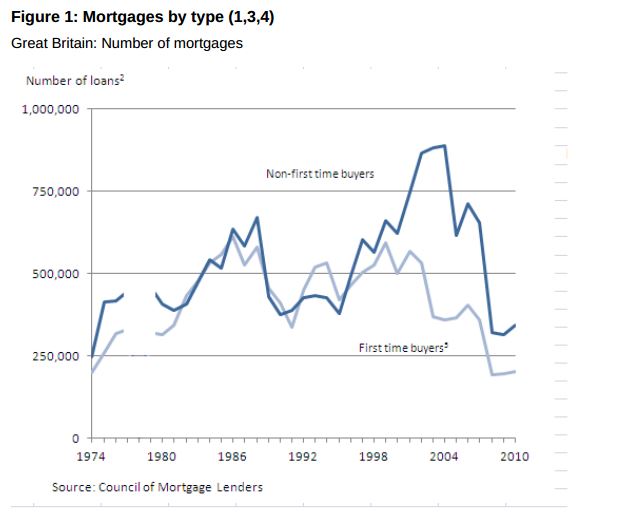 Is it just for first-time buyers?
The Treasury have stated that both schemes are available to people moving home, as well as those who are first-time buyers. While people who are buying to let will not be eligible, there has been confusion over whether those wanting to buy a second home will be able to take advantage of the programme.
The Financial Times explains that it's effectively a choice between helping everyone or helping no-one:
"The problem is always that proposals often have a lot of "deadweight loss": they often help people that would have bought anyway. Mr Osborne has embraced this problem and instead offered help to nearly all would-be buyers."
All today the Government has been sending out the message that the "intention" of the scheme is to assist first-time buyers, yet the Treasury has admitted that second home buyers won't be excluded.

The Shadow Chancellor Ed Balls was quick to denounce the proposal:
"From what I can see, the government is basically saying if you have got a spare room in a social home, you will pay the bedroom tax but if you want a spare home and you can afford it, we will help you buy one."
Shortly after his interview with the BBC, Housing Minister Mark Prisk appeared on the World At One to correct any misunderstandings. He argued that anyone wanting to take part in the scheme would need to "divest" themselves of their current property. However, this does not answer the question of whether, for example, a husband and wife would each be able to buy a house in their own name. 
Research from the industry puts the number of second homes in the UK at almost 250,000. 
This afternoon Vince Cable reiterated Mr Osborne's line that the details of the legislation have not yet been agreed upon. But as it stands, it looks like many people will be claiming that the right to a second home is part of the Conservative vision for an Aspiration Nation.